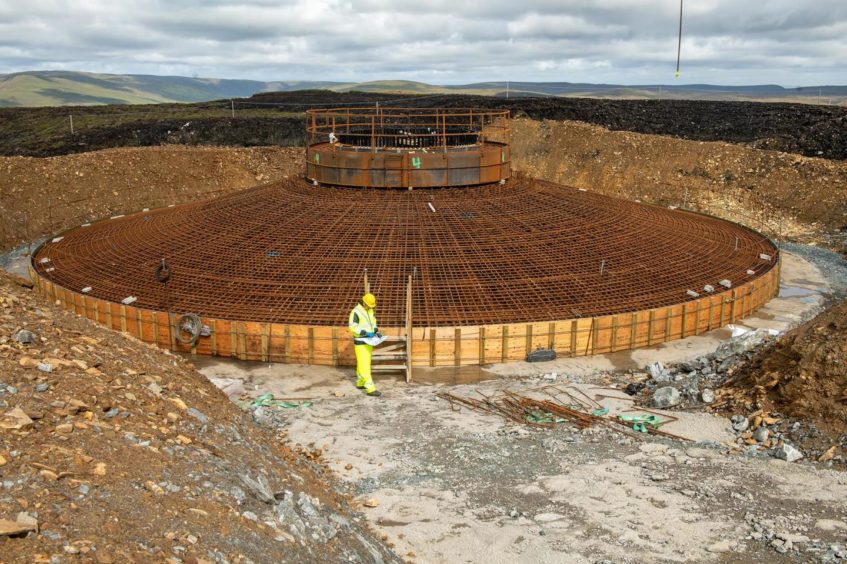 A leading figure behind a major Scottish onshore wind farm says he expects the development to deliver "exceptional" levels of productivity.
Derek Hastings, SSE Renewables' head of onshore projects, says Viking, currently under construction on Shetland, differs "quite significantly" from what's already on the market, given the "strength and consistency" of winds on the island.
As such, he anticipates the 103-turbine development to yield green electricity on a scale "very near" to that usually associated with offshore wind.
According to the Met Office, Shetland is the gustiest place in the UK, meaning it can rival the wind consistency and speeds usually found at sea.
First cables for Viking are due to arrive next month, with turbine erection expected to kick off around March 2023.
Under the current timeline, turbine commissioning will run from March to September 2024 – the wind farm will be capable of supplying green energy to around 475,000 homes.
Viking is forecast to become the UK's "most productive onshore wind farm" upon completion, SSE Renewables said.
During a visit to the Viking site, Mr Hastings said: "If you imagine two lines, one representing a standard onshore wind turbine and the other representing an offshore wind turbine, we expect to be much closer to the latter.
"As we've seen today, the strength of the winds and the consistency on Shetland is fantastic – we anticipate a very good yield."
The signs bode well for Viking, with the nearby Burradale wind farm boasting the record of being the "most productive" development in the world per unit of installed capacity.
It also has an average capacity factor of more than 50%, according to owners Shetland Aerogenerators.
And while Mr Hastings said they'd have to "wait and see" as to whether Viking replicates those feats, he's forecasting "exceptional availability".
As it stands, 30 of the 103 bases that will hold the 4.3MW Vestas turbines have been excavated. Of those 30, five currently have steel-fixings, which contain over 200 bolts and about 107 tonnes of reinforcing steel.
Meanwhile, more than half of the 43.5 miles of access tracks needed for the development have been carved out, while over £12 million has been spent with local contractors and suppliers.
Siemens BAM has also begun work to build the wind farm's electricity substation.
Surprisingly, the project is still predicted to finish on time and on budget – about £1.2 billion between the wind farm and substation – in spite of the disruptions caused by Covid.
Mr Hastings said: "Work at Viking is progressing very well and we're taking steps forward every day. We're at a position now where we're just about to start pouring cement into turbine bases – that's good progress.
He added: "We've had to be very cognisant about the whole Covid situation and think carefully about who we bring to Shetland. We've tried to employ as many local people as we possibly can, which is always a good idea anyway.
"People have had to be very adaptable and we've had to shift our lives online, but that's allowed us to get to where we are today."
Despite largely playing second fiddle to offshore wind in recent years, onshore wind has increasingly come back into focus as the need to decarbonise escalates.
Last year, the UK Government lifted its four-year moratorium on new onshore wind farms, meaning schemes can now compete in Contracts for Difference (CfD) auctions.
The state subsidy guarantees developers a price for the green energy they produce, creating certainty by giving them protection against fluctuating prices.
On whether SSE Renewables is planning to try and secure a CfD for Viking, Mr Hastings said: "We haven't made a decision yet but at some point we will have a look at it – we certainly haven't ruled it out.
"This project already has an absolutely valid business case without a subsidy, so it'd be a case of getting a CfD that's good enough."
Recommended for you

Vestas hones in on Scotland for new wind turbine factory