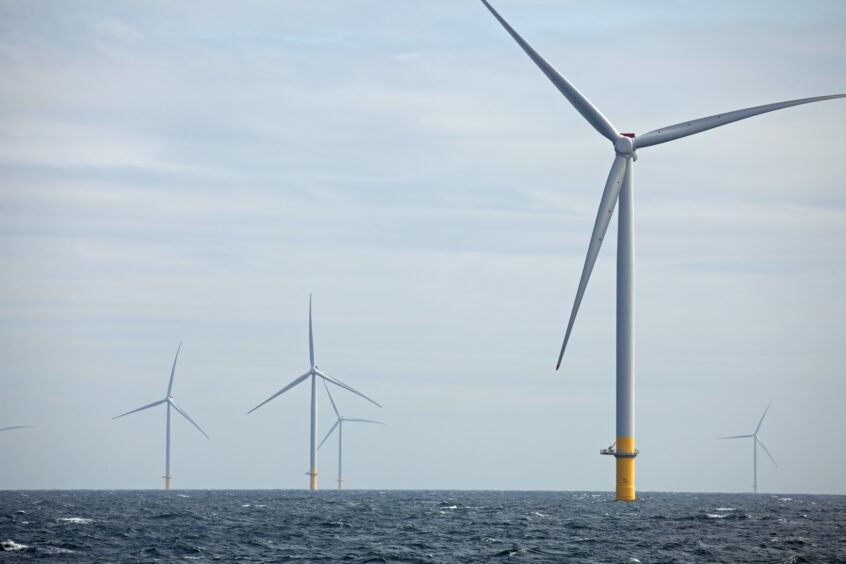 A new report has set out the distinct lack of Scottish content in wind developments in the rest of the UK.
Research from the Scottish Offshore Wind Energy Council (SOWEC) found that, for non-Scottish UK projects, businesses from north of the border supply less than 1%.
For developments in Scotland, that figure rises to 44%.
The UK's Offshore Wind Sector Deal, a partnership between UK Government and industry, has a commitment to grow UK content of offshore wind to 60%.
But to deliver this level, it will require "significant" investment.
The report, conducted by BVG Associates, recommends a strategy focused on manufacturing rather than installation.
It identifies towers, blades, and floating offshore wind platforms as the most promising inward investment opportunities for Scotland.
There is cause for optimism though, with the report highlighting that future floating offshore wind projects are likely to deliver higher levels of UK and Scottish content than fixed offshore wind projects.
That's due to the increased likelihood of platform manufacture in Scotland, as well as the supply of mooring systems.
Moreover, more of the turbine installation work for floating developments is undertaken onshore, meaning that existing expertise from the onshore market can be used.
Brian McFarlane, SOWEC co-chairman, said: "For the first time, we have a baseline to grow from. SOWEC is committed to growing Scottish jobs from offshore wind, so knowing where we are starting from and having a clear route map is vital. This report, alongside the recent Scottish Infrastructure Assessment, will help SOWEC to prioritise actions to grow jobs in Scotland from offshore wind."
In order to deliver 60% UK content, the report estimates that 15 new manufacturing facilities would be needed, six of which could be in Scotland.
However, it also highlights that there are no compelling reasons for suppliers to choose to manufacture in Scotland compared to other UK locations.
Despite promises of an offshore wind revolution in Scotland, many of the benefits are yet to trickle down into the supply chain.
Trade unions have highlighted a lack of local content in Scottish projects, something they say is hampering a 'just transition' from oil and gas.
That was thrown into stark reality earlier this week when CS Wind, the only UK turbine tower manufacturing facility, fell into administration.
Neil Douglas, director of BVG Associates, said: "ScotWind and other upcoming leasing rounds represent a huge opportunity for the Scottish supply chain. These leasing rounds can provide a catalyst for Scotland to grow an industry to meet local and global needs.
"Increasing the local share of offshore wind projects will deliver economic, social and environmental benefits for Scotland. More local content will also increase offshore wind's appeal to investors, governments and citizens. Having worked with the Scottish supply chain for over a decade, we are delighted to support SOWEC to help make the most of these opportunities."
Recommended for you

Project directors appointed for Scottish offshore wind farms