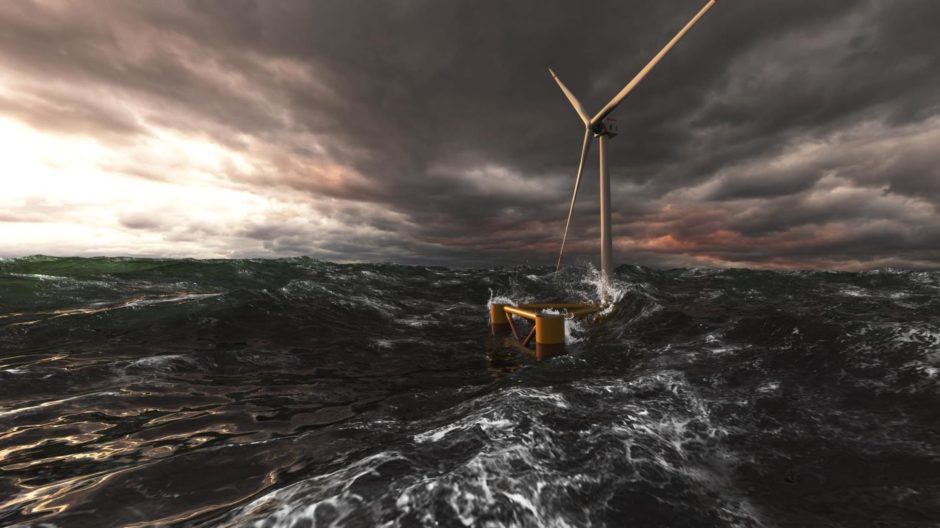 Ocean Winds (OW) and Aker Offshore Wind (AOW) have pledged to create thousands of high-skilled jobs in Scotland if they're given the green light to build what would be the UK's largest floating offshore wind development off the north-east coast.
The pair have unveiled ambitious, multi-billion pound plans to make Scotland a "global leader" in floating offshore wind by delivering a 6 gigawatt (GW) development in the Outer Moray Firth.
If it comes off, the floating project would be "by far" the largest wind energy development in the UK, powering millions of homes.
It could also "revolutionise" energy production north of the border, delivering a net zero future by harnessing the wind power and potential in Scotland's deep waters.
Matching the needs of net zero
Ahead of the Floating Offshore Wind Conference, which kicks off in Aberdeen tomorrow, the partnership has shared details of its ScotWind bids.
OW and AOW – established by Aker Solutions last year – said their pledge to deliver the development would create thousands of jobs, aiding a 'just transition'
Sian Lloyd-Rees, managing director of AOW UK, said current net zero timelines demand projects on the scale that they have proposed.
And floating technology will be key for delivering energy at an "affordable price" for consumers.
She said: "At Aker, we have decades of experience in handling floating structures, as well as a strong history in the supply chain in the UK.
"Aker has been in Aberdeen for over 40 years developing floating units. We do believe that we have a strong offer to make to the Scottish Government as one of the main developers."
A 'giant boost' for the supply chain
In addition to aiding the energy transition, AOW and OW said the project would deliver a "giant boost" for Scotland's supply chain.
The project is designed to enable Scottish businesses to ramp up ahead of production, with a commitment to 40% minimum supply chain content in Scotland and 60% in the UK.
Mapping and engaging has already resulted in agreements with suppliers to enable early investment priorities, the partners said.
To give companies sight of upcoming opportunities, OW and AOW have also confirmed plans to launch an online supply chain portal.
And with their "supply chain heritage", Ms Lloyd-Rees says the partners are "fully aware of the competencies" that exist in Scotland.
She said: "We have the strength and the capability here to be able to deliver the cost point that we want – we're committed to 60% local content in the delivery of our bid.
"The supply chain investment needed to get the industrial strength in Scotland, and the UK, has to be made ahead of these projects.
"That will allow for technology evolution and to build the scale that's needed at different sites in order to be ready to compete.
"Our particular bid has a large amount of early investment into the supply chain, well ahead of the projects going forward, and that's there to support them and to get them ready."
Is the future floating?
Floating offshore wind is the latest advent in renewable energy technology.
Around 80% of the world's wind resources are in waters deeper than 60 metres and are unsuitable for fixed foundations.
But developers can tap the resources using floating turbines that can make "massive contributions" to the energy grid.
Question marks around cost still remain though, and Ms Lloyd-Rees said "optimising" units and greater "standardisation" will be key to getting costs down.
"Our vision is for Scotland to become a global leader in floating offshore wind, contributing to our net zero mission with green energy at scale," she said.
"We can create thousands of highly-skilled local jobs through billions of pounds of investment in local supply chains and infrastructure.
"Our bid would deliver for the next generation by harnessing the green power and extraordinary potential of Scotland's deep water resources.
"Floating offshore wind is the next step in the renewable revolution, and we're delighted to partner with OW to unveil our ambitious plan for Scotland's future."
Ms Lloyd-Rees added: "If you look at the skillsets that have evolved into oil and gas over the years, there's high competence in offshore floating units and high competence in delivering projects at scale. We'll be drawing on that to transition it for offshore floating wind."
ScotWind
To deliver their large scale project, OW and AOW will use steel-based semi-submersible floaters called 'Windfloat' – the "world's most proven technology" – and developed by Principle Power (PPI).
PPI is majority owned by AOW and OW.
Organised by Crown Estate Scotland, ScotWind closed to bids in July.
The process allows companies to secure rights for the seabed in Scottish waters for new commercial scale offshore wind projects.
More than 70 bids were submitted by prospective developers, with just 15 spots up for grabs – results are expected early next year.
OW – the result of a 50-50 joint venture by Spain's EDP Renewables (EDPR) and France's ENGIE – is the developer behind Scotland's largest windfarm, the 950 megawatt (MW) Moray East offshore wind farm.
Dan Finch, MD of OW UK, said: "After a decade of work and investment, we have successfully delivered our vision of Scotland's biggest windfarm Moray East, in the 50m water depths of the Moray Firth.
"The Transition to Net Zero means that we need to open new areas of the sea for offshore wind development. We have the skills, experience and technology to take offshore wind out of the Moray Firth and into the deep waters of the North Sea using floating technology.
"This will create a commercial-scale pipeline for floating foundations; we are already working with the local stakeholders to establish a site for their manufacture.
"Our vision is leading the world's commercial scale delivery of floating offshore wind in Scotland so that Scotland can lead the world in floating foundation manufacture and export."