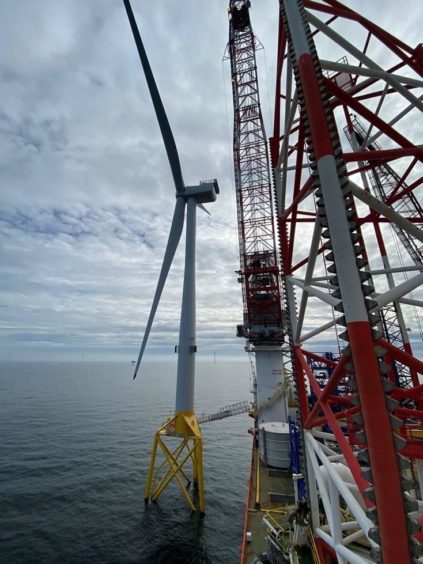 The UK's new energy minister has described offshore wind as the "lynchpin" in bringing emissions down to net zero.
In his first live speech as energy and climate change minister, Greg Hands said he has long been an "ardent enthusiast" for the sector.
He was delivering the keynote speech at the opening of RenewableUK's Global Offshore Wind conference, which is being held in Excel London in the Royal Docks.
As a symbol of the UK's seafaring history, Mr Hands said it was an apt location, given the maritime expertise that is going into creating economic growth and clean energy.
The MP for Chelsea and Fulham took over the energy and climate change minister brief on September 16 from Anne-Marie Trevelyan, who became secretary of state for international trade.
He said: "We're now only 32 days away from the start of COP26 where we will look to accelerate global action to tackle the climate crisis, and it's no exaggeration to say that offshore wind will be a lynchpin in our efforts to reach net zero.
"Last year the Prime Minister set out his ambitious Ten Point Plan for a Green Industrial Revolution, and it's no coincidence that offshore wind took prime position in his vision.
"Whilst I may be new to this position as Minister for Energy and Climate Change, I'm not new to offshore wind. I have long been an ardent enthusiast in Government and beyond for the sector.
"As Chief Secretary to the Treasury in 2015 we moved the parameters of spending and the CfD process decisively in favour of offshore wind and as Trade Minister since 2016 I've always pushed the sector's export capability whether in Taiwan, Korea, Vietnam or elsewhere around the world, and also attracting important foreign direct investment here into the UK.
"So I'm personally thrilled that our country has the world's largest installed offshore wind capacity. But not content with being world number one, we are projecting a quadrupling of that capacity within ten years."
Attendees to the conference also heard from Dan McGrail, RenewableUK's chief executive, who stressed the importance of "speed and scale" in tacking carbon emissions and getting to net zero.
Mr McGrail said: "In offshore wind, we know how to do scale. We've been scaling up since the beginning, it's in our DNA. The next generation of turbines are as tall as skyscrapers with blades over 100 metres long.
"That leaves speed. How can we cut the time it takes to plan, develop and build offshore wind projects? We know a lot of the answers to that. We need to support innovation, invest in a net zero grid that makes it easier and quicker to connect with projects, and ensure the leasing and consenting regime reflects the scale of the ambition.
"It's the right time to take stock and create the framework that can unlock the speed."