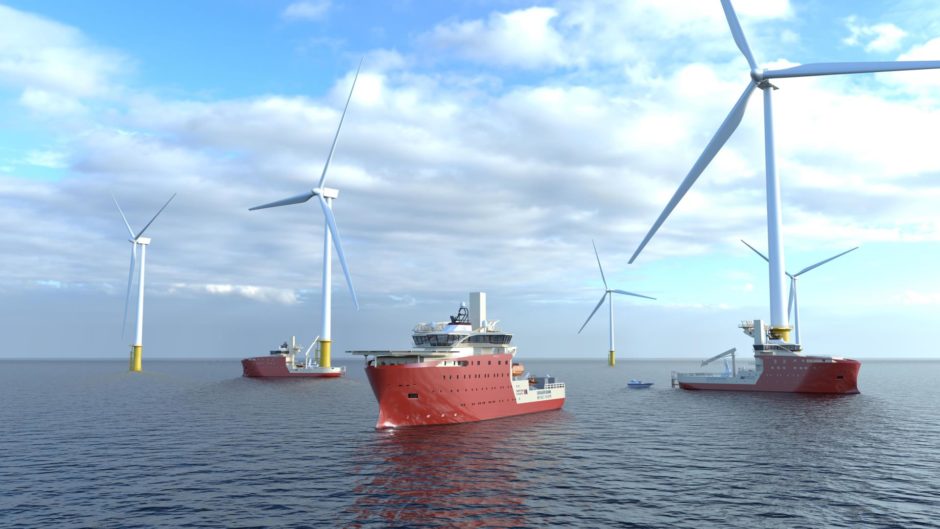 Bosses at North Star have credited their Dogger Bank offshore wind contract with opening the door for securing future renewables work.
And the shipping group has confirmed they are already in discussions "with several of the developers" to have submitted bids as part of the Scotwind process.
It was announced in March that North Star had landed a contract to supply three service operation vessels (SOVs) for use at Dogger Bank, about 80 miles off the Yorkshire coast.
The ships will act as bases for the engineers and technicians working on the development, which is being led by partners SSE Renewables, Equinor and Eni.
Dogger Bank
Once complete, Dogger Bank will be the world's largest offshore wind farm and will be capable of powering around 6 million homes.
Due to its scale, the project is being built in three phases, the first of which is expected to come online in 2023 – the whole development is due to be finished in 2026.
The contract win was a first for the group's North Star Renewables subsidiary, coming just a few months after the division was launched.
Matthew Gordon, chief executive at North Star, said: "If you can service a contract of this magnitude with a client of this magnitude, then you've underlined the business for the future. If you're rubber stamped with Equinor, you're rubber stamper with anyone.
"It's a really exciting project, it's three vessels, it's the UK's largest offshore wind farm and we're part of that journey – what better start than that?"
ScotWind discussions
North Star's move into the renewables industry comes at an opportune time, with the results of ScotWind due out early next year.
More than 70 bids have been submitted by energy companies vying to build the next generation of offshore wind farms in Scottish waters.
And several firms have already pledged to splash billions of pounds with the supply chain if they're given the green light to push ahead with their proposals.
Andrew Duncan, renewables director at North Star, said: "With regards to the ScotWind process, it's still quite far off from delivering but we're already in discussions with several of the developers.
"We have Memorandums of Understanding (MoU) in place with companies who are very keen to capture our local content. In addition to that, there's the local knowledge that we have."
Offshore wind a 'huge' growth area
North Star is owned by London and New York-based investor Basalt Infrastructure Partners.
It employs around 1,400 people globally, 950 of which are in the UK. In Aberdeen, where the group has a base in Queen's Road, there are 71 shore-based employees.
As a result of the Dogger Bank contract win, North Star plans to take on 130 new workers, with a recruitment programme for seafarers due to kick off in the next six months.
Mr Gordon added: "Dogger Bank is an immensely important contract for North Star; offshore wind is a huge growth area. Everyone's in this transition to net zero and we're part of that journey too."