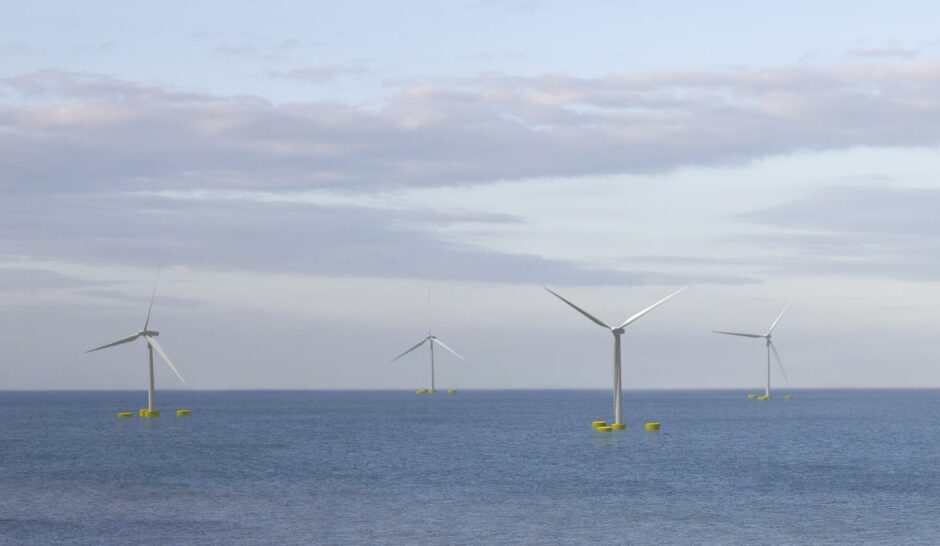 Plans have been officially unveiled for a new floating wind farm that could supply power to more than half of the homes in the Highlands.
Until earlier this year it was thought proposals for a floating development in the Pentland Firth, off the Caithness coast, had been shelved.
Swedish developer Hexicon initially put forward the development but plans dissolved in 2017 when a company set up to lead the project folded.
And despite a pledged by Hexicon to get the scheme, then called Dounreay Tri, "back on track", there had been no movement on it in recent years.
Highland Wind Limited has now reinvigorated the proposals and has formally unveiled the Pentland Floating Offshore Wind Farm (PFOWF).
The development will support Scotland's ambition to generate 50% of the country's energy consumption from renewable sources by 2030.
With an office registered in Edinburgh, the company is majority owned by Danish fund management company Copenhagen Infrastructure Partners (CIP).
Once completed, PFOWF, located 4 miles off the coast of Dounreay, will generate up to 100 megawatts (MW) of green energy.
According to Highland Wind, that's enough to power about 70,000 homes – around 64% of those in the Highland Council Area.
The news follows the recent confirmation that CIP has entered the ScotWind process alongside SSE Renewables and Marubeni Corporation.
Through the leasing round, which attracted more than 70 bids, the trio hope to help Scotland deliver 10 GW of new offshore wind projects.
Copenhagen Offshore Partners (COP) is managing the development activities of PFOWF on behalf of Highland Wind Limited.
Development is planned over two stages; the first consists of a single turbine demonstrator capable of generating 8.6MW – construction is anticipated in 2023.
The initial unit is seen as the pathway to developing the larger project, as well as future floating wind developments in Scotland.
The second stage is the larger array project – up to ten turbines – which will be collectively capable of generating up to 100MW.
Construction of the array is expected to commence in 2025 and it will be operational in 2027.
Upon completion, the array will be the largest of its kind in the world, Highland Wind said.
Whilst the exact floating technology solutions are yet to be decided, a key consideration is building on existing technical expertise in Scotland to maximise local supply chains.
Michael Hannibal, a partner at CIP, said: "We believe in an inclusive approach to developing our offshore wind projects, ensuring that local companies and communities gain the advantage from the opportunities these projects bring. We're committed to awarding Scotland's supply chain with the local content work needed to support job creation and boost the country's floating wind capabilities and experience."
Given the extreme conditions the north of Scotland is prone to, Highland Wind is hopeful the engineering and design work for PFOWF will be easily transferable to most other locations worldwide.
There are several cogs in place that will benefit the project, including existing consents for the demonstration turbine, granted by Marine Scotland.
A lease from Crown Estate Scotland to test and demonstrate a floating project generating up to 100MW – currently the only one in Scotland – has also been secured, as have existing grid connection agreements.
To develop the project within the proposed timeframes, offshore environmental surveys were completed to inform the application, a floating LiDAR buoy has been deployed on site, and a campaign of geophysical and geotechnical surveys is close to completion.
This information is "pivotal" to informing the technology types and detailed design of the project.
Alan Hannah, managing director at COP UK, said: "Floating offshore wind projects are vital to the UK meeting its net zero targets. This is an exciting floating project for Scotland ahead of the ScotWind announcements early next year. Learnings and understandings from pre-commercial projects are key to the speedy commercialisation of floating wind in Scotland."
COP recently opened its Global Floating Wind Competence Centre in Edinburgh with the hope the facility will become a base for floating wind expertise.
According to the Global Wind Energy Council (GWEC), up to 19GW of floating offshore wind capacity is forecast for installation globally by 2030.
Recommended for you

COP opens global floating wind centre in Edinburgh