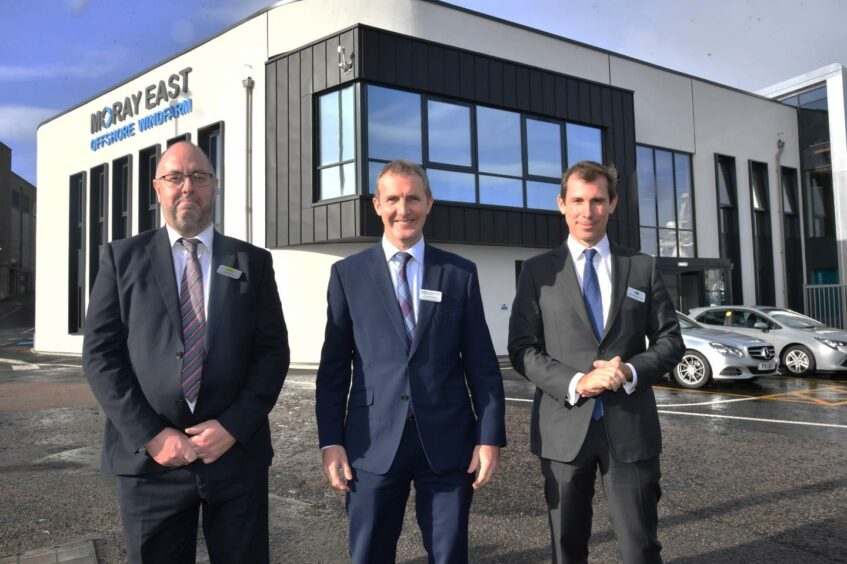 Scotland's cabinet secretary for energy, net zero and transport has cut the ribbon on a key facility for the country's largest offshore wind farm
Michael Matheson was in Fraserburgh today to open the operations and maintenance (O&M) base for the Moray East Offshore Windfarm.
At 950 megawatts, the project is currently Scotland's largest operational wind farm, a title it will lose to Seagreen in the not too distant future.
It has been developed by Moray Offshore Windfarm East Ltd (MOWEL), a joint-venture company owned by Ocean Winds (56.6%) Diamond Green Limited (33.4%) and CTG (10%).
Ocean Winds is a 50-50 joint venture by Spain's EDP Renewables (EDPR) and France's ENGIE.
The O&M base provides the facilities for the day-to-day running of the wind farm, its associated administrative and procurement support, warehousing for spare parts.
It is also home to the service operations vessel (SOV) Alba, which spends two-week periods at sea with a crew tasked with undertaking planned works on the offshore infrastructure.
About 100 locals are directly employed at the O&M base.
Moray East first began generating power in June, with the last of the 100 turbines being installed last month.
Commissioning work is underway and full output is expected by year-end.
During his visit to the north-east Mr Matheson cut the ribbon on a commemorative plaque in the facility after making a keynote speech to the leaders of the global energy companies which financed the project.
Enrique Alvarez, project director of Moray East said: "I am delighted that the Scottish Government has been able to join us in reaching this important milestone, which represents the concrete-and-steel realisation of the vision for offshore wind we brought to the Moray Firth more than a decade ago.
"The O&M base is the land-based hub for the massive offshore infrastructure of Moray East. I would like to thank everyone who has been involved with delivering the project – the communities and organisations that have supported its development, our suppliers and our staff – whose commitment has delivered a facility of which Scotland can be proud.
"At a time when security of energy supply is front and centre of the agenda, Moray East is coming on stream with a secure supply of low cost, low carbon energy from domestic renewable resources."
Mr Matheson said: "Offshore wind will play a significant role in our energy transition and last year we set out our ambition to install up to 11 GW of offshore wind capacity by 2030 – enough to power over 8 million homes.
"The Moray East Offshore Wind Farm will take us one step closer to realising this ambition and I am delighted to officially open the Operations and Maintenance base at Fraserburgh Harbour. This base is another important step in ensuring our communities benefit from new high-valued skilled jobs and associated economic opportunities as we achieve our net zero ambitions."