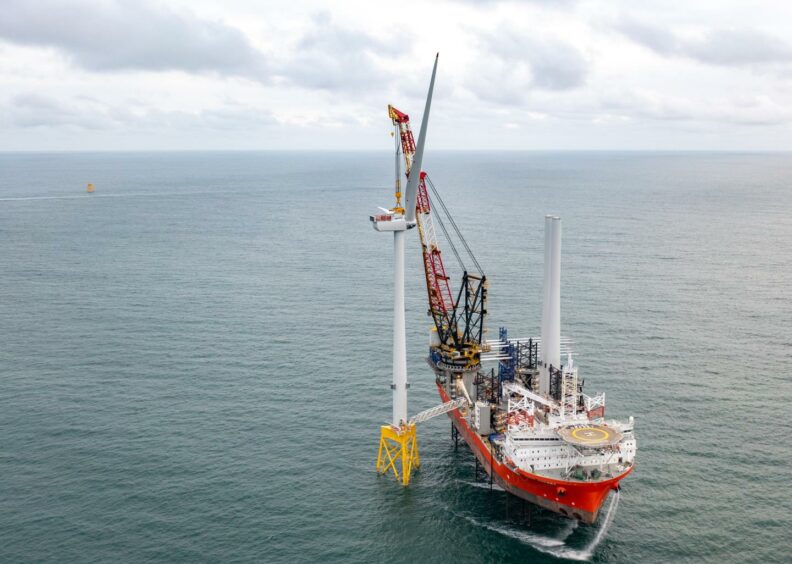 SSE Renewables is celebrating a "major milestone" after the first turbine was successfully installed at what will be Scotland's largest offshore wind farm.
It marks the start of the turbine installation phase at the 1.1 gigawatt (GW) Seagreen development, which will also hold the title of the world's deepest fixed bottom offshore wind farm once complete.
A total of 114 Vestas turbines will be installed about 16 miles off the coast of Angus, with full commissioning expected in 2023.
It is also the first of Vestas' V164-10.0 megawatt (MW) turbines to be installed globally – at 10MW it is the most powerful unit currently installed offshore Europe.
A joint venture by SSE Renewables (49%) and oil giant TotalEnergies (51%), Seagreen is Scotland's largest renewable energy project.
Once complete, the £3 billion wind farm will be capable of generating around 5,000 gigawatt hours (GWh) of green energy annually – that's enough to power more than 1.6 million UK homes.
Components for the first turbine, including blades, nacelles, and the supporting towers, were transported to site by installation contractor Cadeler's Wind Osprey vessel.
The massive turbine was installed onto a giant 2,000 tonne three-legged caisson jacket foundation fixed to the bottom of the North Sea floor.
SSE Renewables is leading the development and construction of Seagreen, supported by TotalEnergies (LSE: TTE), and will operate it for the duration of its expected 25-year lifetime.
Paul Cooley, director of capital projects at SSE Renewables, said: "Seagreen is a project that's always pushing boundaries and is full of firsts. Installing the first turbine at any offshore project is a really important milestone but when that turbine is also the first of its type to be installed anywhere in the world, it makes even more exciting. Once operational, the Vestas V164-10.0 MW turbines at Seagreen will be the most powerful offshore turbines in Europe, generating 1.1GW of installed renewable energy at what will be Scotland's largest offshore wind farm installed on the world's deepest fixed bottom turbines.
"As Scotland's offshore wind champion, I'm truly proud that SSE Renewables is breaking these boundaries on Seagreen with our project and supply chain delivery partners. And I'm looking forward to working across our teams to complete project delivery through 2022 ahead of entering commercial operation in 2023."
Philippe de Cacqueray, head of offshore wind UK at TotalEnergies, said: "TotalEnergies is very pleased to see the first turbine installed on the Seagreen project. As a company that is working towards net-zero and investing in Scotland in order to reach that ambition, reaching this important milestone shows that we are making good progress. By the end of next year we expect that all of Seagreen's turbines will be in place, ready to start providing homes and businesses across the country with renewable power."
The Seagreen turbine installation programme is running in parallel with the ongoing foundation installation campaign, which is being run by Seaway7 out of Scotland's Port of Nigg.
First power from the scheme is expected early next year, with full commissioning following in 2023.
John Hill, Seagreen's project director, said: "As key milestones go, the installation of the first turbine is one of the most exciting. It's a fantastic achievement and a testament to the whole project team that we have reached this moment and we're all looking forward to getting the remaining 113 turbines in.
"The Seagreen project is bringing significant benefits to the local community, to the UK supply chain and, once completed, Seagreen will make a significant contribution to our net zero targets by powering the equivalent of two thirds of Scotland's homes."
Earlier this year, Vestas announced that 87% of the V164 blades for the 1.1GW Seagreen project would be manufactured in the UK.
Of the 114 blade due to be installed at the development, 99 sets, or 297 blades in total, are being produced domestically.
Production for Seagreen is taking place at the company's Isle of Wight facility.
Allan Birk Wisby, project director at Vestas, said: "The commercial installation of the first V164-10.0 MW at the Seagreen project is a major milestone for Vestas and continues to push the boundaries of offshore operational excellence. We're proud to be supporting SSE Renewables and TotalEnergies in the delivery of this important renewable energy project for Scotland with Europe's most powerful turbine currently installed commercially.
"The project's progress has been bolstered by outstanding collaboration by all parties, and we look forward to continuing the installation campaign of the Seagreen project into 2022."
Recommended for you

Flotation Energy looks to the next set of giant UK floating wind farms