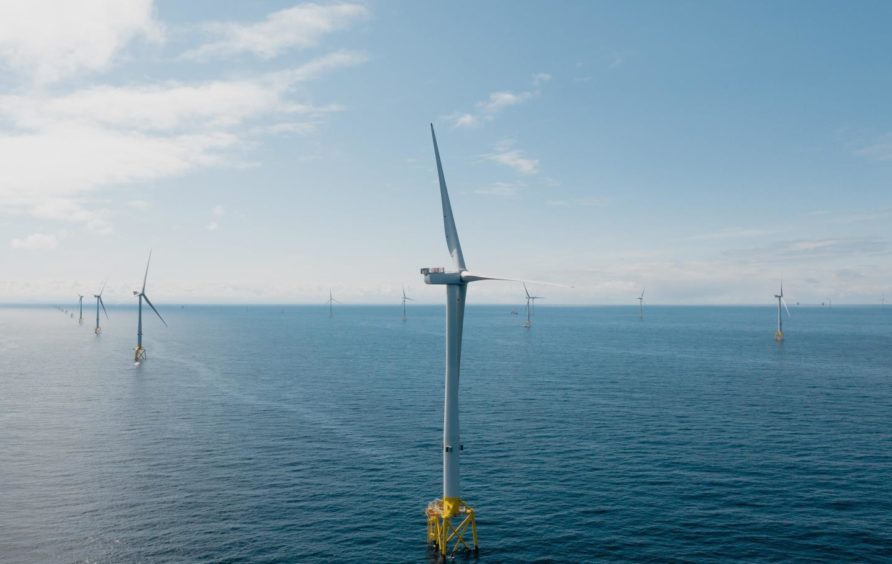 A major offshore wind farm located off the north-east coast has achieved full output.
Comprised of 100 turbines, Moray East is currently Scotland's largest offshore wind farm with an installed capacity of 950 megawatts (MW).
Following completion of commissioning works, the development has now achieved its full contracted output of 900MW to the UK National Transmission Grid.
First power from Moray East was achieved in June, since when it has produced an ever increasing amount of green energy.
In total 1 415 000 MWh hours has been fed into the grid since first power, enough to meet the total annual electricity needs of all households in Aberdeen and Edinburgh.
Enrique Alvarez, project director for Moray East, said: "Offshore wind has a unique advantage; we don't have to wait until work has finished to switch on.  Output can start after the first few turbines have been commissioned and increase incrementally as work progresses.  Over the period of 9 months from June last year, as more and more of our 100 turbines were installed, we supplied more and more electricity to the gird – 1 415 000 MWhrs .
"While construction was underway, between starting our first turbine and finishing the windfarm, we supplied enough electricity to meet the annual needs of every household in Edinburgh and Aberdeen – with enough left over for most of Moray as well.
"This, of course, is our output from a fraction of a year with a fraction of our turbines.  I am delighted to announce that Moray East has now achieved its full contracted output of 900 MW."
Moray East is located about 13 miles from the Aberdeenshire coast at its closest point.
It was developed by Moray Offshore Windfarm East Ltd (MOWEL), which is a joint venture company owned by Ocean Winds (56.6%) Diamond Green Limited (33.4%) and CTG (10%).
Ocean Winds, a 50-50 joint venture between Spain's EDP Renewables (EDPR) and France's ENGIE, won the right to develop the project in the Moray Firth in 2009.
As it stands it is Scotland's largest offshore wind farm, though it will soon lose that title to SSE Renewable and TotalEnergies' huge Seagreen project.
The 100 Vestas V164 – 9.5 MW turbines for the scheme were assembled in the Highlands at Global Energy Group's Port of Nigg.
Mr Alvarez added: "Because we are using large turbines offshore, our capacity is comparable with the recently-closed large thermal powerstations like Cockenzie or Hunterston, so we are able to make a big contribution to national energy needs.  We are reliably providing low-cost, low carbon energy, entirely from indigenous resources.
"I would like to acknowledge and thank everyone who has contributed to this achievement; from introducing the project as a concept more than a decade ago, to delivering it as today's reality in shining steel.  Our staff, our contractors, the communities and enterprises of the Moray Firth, their representatives in local and national Government, and the civic, regulatory and planning framework have all learned, diversified and grown so that the new offshore wind industry can be a major part of our energy supply.
"The UK urgently needs new low-cost, low-carbon generation, and lots of it.  Offshore wind is the quickest, cheapest way to provide it.  The more offshore wind that is on the grid, the less consumers are exposed to increasing gas prices."
Recommended for you

Flotation submits planning docs for Celtic Sea floating wind