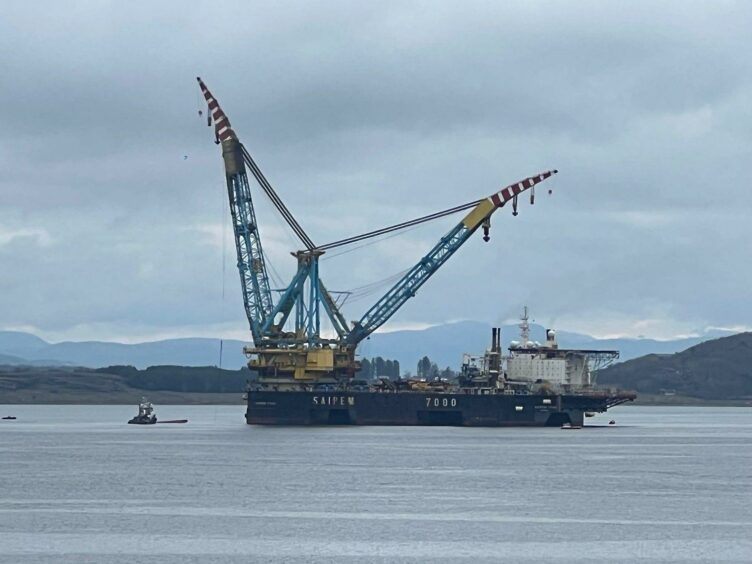 It is currently unclear whether the construction of Scotland's largest offshore wind farm will be hampered while the Saipem 7000 is assessed.
SSE Renewables says it is "working closely" with Seaway 7 to gage the potential impact of the vessel malfunction failure on Seagreen, which is currently being installed off Angus.
Videos emerged last week of the Saipem 7000 crane vessel tilting in Norwegian waters after an incident during a lifting operation.
Prior to crossing the North Sea for planned maintenance, it had been transporting and installing turbine jackets for Seagreen.
It also fitted a 5,100 tonne jacket in preparation for the project's offshore substation topside.
The next installation campaign had been due to begin at the end of the month when the Saipem 7000 returned from Norway.
Now, with the vessel out of action while Saipem carries out crane assessments, there are question marks around whether SSE Renewables will be able to deliver the project on time.
As it stands 21 of Seagreen's 114 wind turbines have been fitted on foundation structures, according to the project's latest notice of operations.
A spokesperson for the Seagreen project said: "While it is too early to say what impact there may be on the project, we are working closely with our tier one contractor, Seaway 7 to assess the situation."
The Saipem 7000 was left listing in a channel north of Stavanger on Thursday after a lock wire broke during a lift of two barges as part of a test operation .
The 198 metre semi-submersible crane vessel (SSCV) suffered damage in the process before being subsequently righted.
All 275 crew were reported safe, and nobody was injured during the incident.
In a statement released last week, Saipem said: "The unit, after an initial tilting caused by the load release, promptly returned in a stable position and safe condition. A crane assessment is ongoing."
When asked, the Italian contractor said it did not have an additional update.
The Saipem 7000's cranes are able to carry out lifts of up to 14,000 tonnes, and deepwater pipelaying in water depths of more than 2,000 metres.
Seagreen is a joint venture between SSE Renewables (49%) and TotalEnergies (51%) (LSE: TTE), after the French oil giant snapped up a stake in the project in 2020.
First power from the offshore wind farm, the world's deepest, is expected this year after the first turbine was installed in December.
At 1.1 gigawatts, Seagreen will be Scotland's largest renewable energy project once complete, and one of the biggest private investments in Scottish infrastructure.
It will be capable of generating around 5,000 gigawatt hours (GWh) of renewable energy annually –  enough to power more than 1.6 million UK homes.
Recommended for you

Wind growth requires new thinking on supply chain challenges