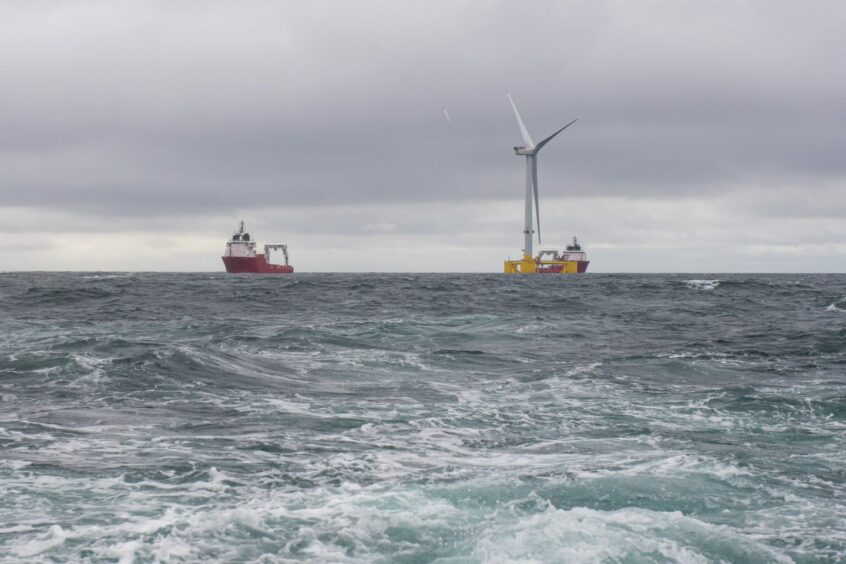 A pair of leading European offshore wind developers have unveiled plans to support North Sea oil and gas decarbonisation.
Flotation Energy, of Scotland, and Vargronn, of Norway, have teamed up to apply for leases in the Innovation and Targeted Oil and Gas (INTOG) round.
Orchestrated by Crown Estate Scotland, the process allows developers to secure acreage to build wind farms to power oil and gas assets.
It is expected to make a "significant contribution" to Scotland's target of zeroing out emissions by 2045, as well as the North Sea Transition Deal goal to reduce offshore emissions by at least half by 2030.
INTOG follows the hotly contest ScotWind offshore leasing round, which attracted more than 70 bids from a mix of Big Oil and renewables firms.
Vargronn was established by Italian supermajor Eni and private-equity giant HitecVision, the owners of North Sea firm Var Energi, in 2020.
The partners will leverage that oil and gas expertise to deliver "innovative solutions and promote supply chain development" in Scotland.
Based in Edinburgh, Flotation had a key part in the development and delivery of the Kincardine floating offshore wind farm near Aberdeen.
The company was co-founded by current chief executive Lord Nicol Stephen, a Scottish Liberal Democrats grandee and Deputy First Minister of Scotland between 2005 and 2007.
Lord Stephen said: "Decarbonising UK oil and gas platforms is an urgent priority. Flotation Energy initiated early development work in 2020. We are determined to push forward so that our floating wind projects are delivering renewable energy to the oil and gas sector by the mid-2020's.
"As well as tackling climate change, these projects will lead to billions of pounds of investment and thousands of skilled jobs – securing Scotland's leadership in floating offshore wind. We are excited to team up with Vargronn in establishing a strong offshore wind bid for the INTOG round."
Vargronn was launched to actively participate in the energy transition, building on Eni and HitecVision's long-term partnership from jointly developing Var Energi.
The joint venture took on a 20% stake in Dogger Bank, the world's largest offshore wind farm, earlier this year.
Olav Hetland, CEO of Vargronn, said: "Flotation Energy and Vargronn combine their unique experience from offshore wind development. Vargronn provides Norwegian offshore competence, offshore wind experience, financial expertise and strength to the consortium, also leveraging on our shareholders Eni and HitecVIsion.
"Flotation Energy has an established local position in Scotland, entrepreneurial drive and experience from developing Kincardine the largest operational floating windfarm in the world. We look forward to a very successful partnership for this nationally important project."
Recommended for you

Cerulean Winds signs exclusivity agreements for three INTOG floating wind sites