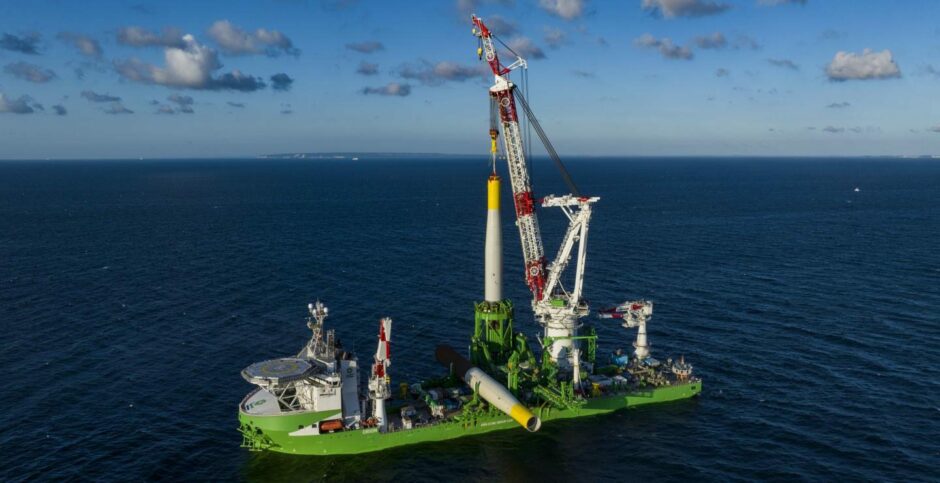 Offshore construction group DEME will use its ultra-modern Orion vessel to carry out monopile installation for Moray West – despite the challenging winter conditions.
Described by the group as "an industry breakthrough", DEME will begin installing XXL monopiles at the 882MW wind project in the Moray Firth next year.
Using a double-staged, motion compensated pile gripper, DEME Offshore says it will be the first time monopiles of this size have been installed through the challenging winter period.
It is the newest contract secured by the company for developer Ocean Winds since the completion of sister wind scheme Moray East in 2020, and includes the installation of monopile foundations and transition pieces.
The exact value of the award was not provided, however DEME said the "sizeable" contract was valued at between 50-150 million euros (£43m-£129m).
The project will also see the first deployment of a vibro-hammer – a device which vibrates the ground to enable piles to be driven with less force – and used to overcome weaker soil layers when installing the monopile foundations.
The technology will be deployed from DEME's "revolutionary" floating offshore installation vessel Orion which will handle monopile installation, while its jack-up unit Apollo handle the installation of transition pieces.
The campaigns are expected to be undertaken through 2023-2024.
As well as the XXL monopiles and transition pieces, DEME will perform the bolting and grouting works for the monopile/transition piece connections.
Moray West is one of a number of wind farms being progressed by Ocean Winds, a 50/50 joint venture between EDP Renewables and Engie.
The development will be comprised of 60 wind turbines, the nearest of which will be about 14 miles from Caithness. It secured government support in this summer's Contracts for Difference (CfD) round, alongside a host of other renewables projects.
One deal for output from Moray West has already been secured, with 100MW procured under a 12-year agreement with tech giant Google.
Meanwhile, a unit of Subsea 7 signed a letter of intent earlier this year covering engineering, procurement, installation and commissioning of inter-array grid cables at the site.
Recommended for you

North Sea wind farm to supply green energy to Google