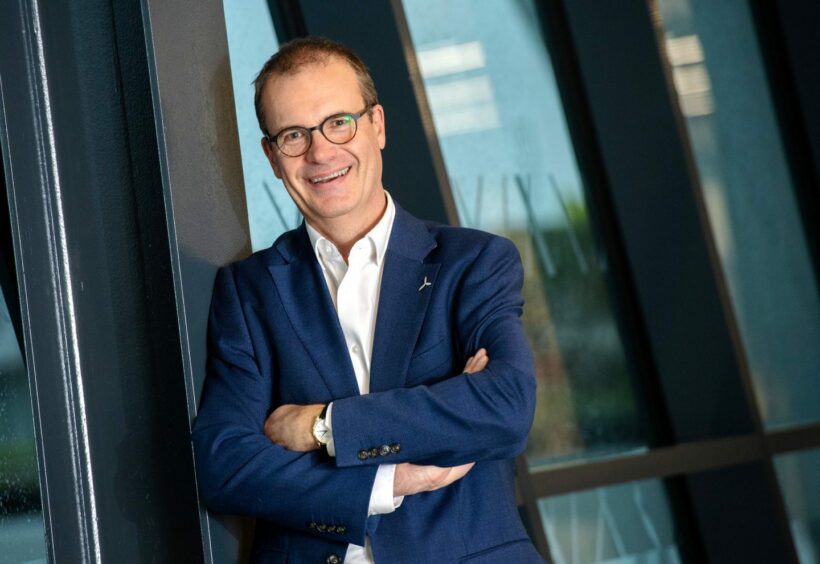 BP has been busy snapping up acreage in offshore wind auctions in the UK, but the new in-country boss for the sector has hinted the energy giant is not done yet.
"We're obviously keen to keep growing, BP is looking to grow globally," says Richard Sandford, the firm's vice president for UK offshore wind appointed in July.
"There are auctions coming up in the UK. We don't tend to talk about which auctions we are going to bid in until maybe we have… Of course, I've been looking at the upcoming opportunities in the UK."
Partnered with Germany's EnBW, BP has the Mona and Morgan projects in the Irish Sea; a combined three gigawatts of generation potential through the Crown Estate Round 4 leasing round, enough to power the equivalent of 3.4 million homes with clean electricity.
The pair also have their ScotWind project Morven, about 37 miles off the Aberdeenshire coast, with nearly the same power potential as the Irish Sea projects combined.
BP and EnBW have already committed to spending £1.19bn in Scotland as part of that development, which has been a "massive focus"; the firm has some 900 suppliers signed up to its ScotWind dedicated portal and has committed to building four ships in Scotland as part of its spend.
There's more auctions on the way; a hinted ScotWind 2, and a Celtic Sea round expected to launch in 2023 from the Crown Estate.
Sandford isn't giving anything away on where BP will bid, but appetite for growth domestically is clear.
"The UK is a key market for offshore for BP. Our headquarters are in the UK, we've got huge business in the UK anyway, the UK will be a massive offshore wind market for us."
Barriers to growth? 
Achieving growth won't be without its barriers. That includes the UK Government windfall tax on power suppliers unveiled in November.
Unlike the Energy Profits Levy on North Sea producers, the Electricity Generator Levy has no investment incentive linked to its 45% rate.
How might that dent wind growth appetite at BP?
"We're not an electricity producer in the UK – so I can't comment on that. Right now, I'm focussed on delivering Mona, Morgan and Morven, which we remain committed to."
Nonetheless, there are other issues which exist in the broader UK sector which, if not denting appetite from developers, are at least causing frustration.
These range from "very slow" consenting, to the need for key improvements to the grid connection to take on the amount of power produced, to doing more to encourage local content in auctions.
But Sandford is convinced BP can play a leading role as the industry seeks to overcome those challenges, and as the company itself transitions.
My energy transition
Appointed from RWE to head up BP's offshore wind business in the UK, Richard Sandford actually started his career as a craft apprentice at a coal-fired power station.
He's spent 35 years in the energy sector, the last 15 of which have been in offshore wind, mainly at German multinational RWE.
Why go to "oil giant" BP? He says CEO Bernard Looney's vision to transform the business plays a role.
"I saw BP's vision for decarbonisation and the energy transition and, particularly listening to Bernard Looney and just how incredibly passionate he is about the energy transition and how important offshore wind is in that journey, I just thought 'I can make a real difference here'.
"If I can help bring in some of that offshore wind experience and capability, with that combination of the existing BP team, new people from offshore wind, the mentality, the drive, the ambition BP have to make this work, and the resources to make it work, I can make a real difference.
"And if BP can change – and they will change – it's gonna make a huge difference to our planet."
Engine Room
Bernard Looney has described hydrocarbons as the "engine room" for BP's business as it undergoes its "greening" journey. A more infamous "cash machine" quote has also been associated frequently with the energy giant's CEO.
BP is seeking to reduce oil and gas production by 40% by 2030, even as it insists it will invest in profitable fossil fuels projects.
But does that mean offshore wind could one day become its "engine room" and take over hydrocarbons?
"At some stage, of course the balance will switch," says Sandford, though he doesn't suggest when in the future that day might come.
"Offshore wind is one of the instruments for those clean electrons, a very important one, it's something you can build at scale, and it fits really nicely for BP; big megaprojects at scale.
"But there's all sorts of other renewable technologies and they all play their part in in the energy system – and storage as well."
Rather than purely just offshore wind, BP as a "true integrated energy company" and the facets that entails is the important factor for Sandford when it comes to the firm's future.
But take it from a former coal industry apprentice, there needs to be a phased transition here not just for BP, but for Scotland and the wider UK in the renewables journey.
Local development
The story so far, particularly with fixed wind, has been that huge projects in Scotland have, in the main, been assembled here but manufactured overseas, with only a fraction of the industrial benefit being captured.
BP's wind projects under development are fixed, but a large chunk of ScotWind will be through floating wind projects.
So can the country tell a different industrial story with this next wave of work?
"Yes, I think floating wind is a new opportunity. Our projects, our project with the EnBw, our Scotwind project Morven is actually a fixed-bottom project. Shallow water is fixed-bottom.
"That said, we're working really hard to maximise not only our UK content but our Scottish content. We've already pledged to spend £1.2 billion in that one project alone in Scotland, and we're working with local supply chains and particularly small companies to really see what we can do to increase that."
That figure includes seed funding for offshore wind construction and marshalling at the port of Leith, and BP has committed to building its global operations and maintenance centre of excellence in Aberdeen.
'You can't look for excuses…it's for us as an industry to make it work'
There is a huge focus on port "clusters" being developed in Scotland in order to see industrial areas work together to ensure they can capture the industrial opportunity.
But what if ports can't get infrastructure up and running quickly enough, could developers be forced to look overseas?
"You can't look for excuses," says Sandford.
"Developers have to work together where they can. We need to work with the ports, with the local industry and with local government to make it work.
"It's for us as an industry to make it work. I'm certainly not looking at making excuses. I'm looking for solutions to bring (and) the opportunities locally, where they should be."
For areas like the burgeoning floating wind industry, Sandford says Scotland has the opportunity to "get on the front foot" by creating manufacturing capability.
Importantly that's not just for Scottish projects, but competing "on the global market" for exports.
Skills mix
There are "all sorts of different skills" needed in offshore wind – part of the development of that will be creation of a skills passport for members of the supply chain to transfer over.
At BP, Sandford says there's a "good balance of external offshore wind people and people that have moved from BP's oil and gas business".
He adds: "That's really good to help address the skills gap. Because if we were just robbing the industry of offshore wind people, it's not going to do the whole industry any good at all.
"So I think it's great that companies like BP can retrain their existing teams and their supply chain as well, and actually bring more people into the business because there's a huge boom in offshore wind. It's got exponential rise and skills are going to be a key issue to delivering that."
Recommended for you

Energy minister opens new Edinburgh office for ScotWind developer