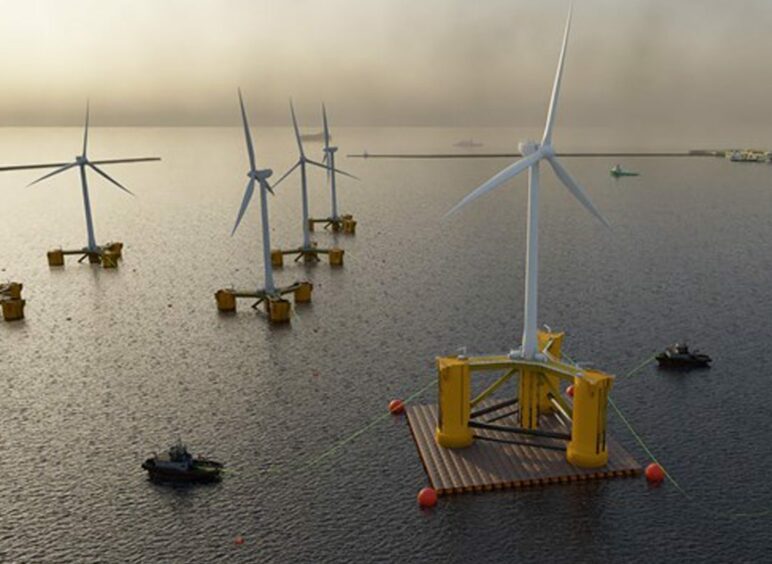 A planned floating wind test site at Orkney from the European Marine Energy Centre (EMEC) will be worth nearly £700m to the UK economy, says new research.
Plans were revealed last year for EMEC's 100 megawatt (MW) demonstrator scheme around 12 miles west of the islands.
New research from consultancy BiGGAR Economics calculates the demo site will generate £690m gross value added to the UK, with £442m of that accruing in Scotland.
The assessment also anticipates 4,160 new jobs will be created by the facility over its 25-year lifetime, with 2,220 of those in Scotland.
That covers construction through to development and client demo activities.
Built into the development is a collaboration with Xodus Group's "X-Academy" which will offer retraining or upskilling opportunities within the centre for industry workers.
Commercial director of EMEC, Matthew Finn, said: "We want to ensure the benefit of the UK being a first mover on offshore energy technologies is firmly cemented here. Establishing a test centre of this nature in Scotland will encourage international companies to establish themselves here and sends a clear market signal to the Scottish supply chain.
"The development of a floating wind test site aligns with the British Energy Security Strategy which outlines a clear need for continued support for R&D to drive through the commercialisation of technologies, bring down costs and provide assurance to investors regarding the viability of an emerging technology."
EMEC is launching the centre as the UK Government seeks to develop five gigawatts (GW) of floating wind by 2030.
The test centre is designed for developers to de-risk their technologies, including turbines, floating structures, moorings and other components.
EMEC hopes this will allow performance to be refined and scaled up as major projects, such as those linked to the ScotWind leasing round, are scaled up.
Graeme Blackett, director of BiGGAR Economics, said the assessment "highlights the strategic economic role the centre will play, providing a real-world testing and demonstration facility, encouraging innovation and accelerating deployment of floating offshore wind".
Recommended for you

Nova wins €20m funding for world's largest tidal site in Orkney