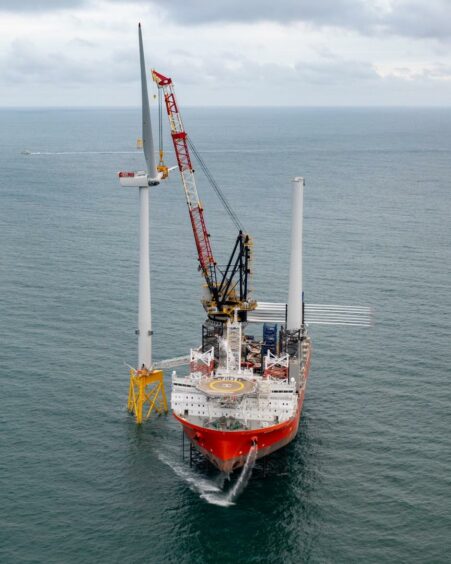 Work to fit the remaining turbines at Scotland's largest offshore wind farm has paused, the developer has confirmed.
Market analyst Esgian recently noted that "no jacket or turbine is being installed" at the Seagreen site, some 16 miles off the coast of Angus.
SSE Renewables subsequently confirmed that a planned break is ongoing – work to fit array cables is continuing.
According to Esgian, the Saipem 7000 vessel, which has been transporting and installing turbine jackets for the project, is "on a yard visit in Rotterdam".
Meanwhile the Wind Orca offshore wind farm installation ship is in Nigg, ahead of carrying out maintenance work at the Moray East wind farm.
Most of the work done
Esgian believes at least "12 suction bucket jackets and 13 turbines" are still to be fitted at Seagreen, which is due to become fully operational in Q2 2023.
Developer SSE Renewables says 79 of the project's 114 Vestas wind turbines have now been erected, while the vast majority of jacket substructures have been installed.
Esgian said: "Jacket and turbine installation at the Seagreen offshore wind farm appears to have halted for the time being.
"No jacket or turbine is being installed, as the vessel Saipem 7000 is on a yard visit in Rotterdam and Wind Orca is on its way to Moray East to perform maintenance work.
"The installation pause appears to be a short break before activities are expected to resume again. The project still needs to install least 12 suction bucket jackets and 13 turbines."
Seagreen is a joint venture between SSE Renewables (49%) and French energy giant TotalEnergies (51%) (LON: TTE), after the latter acquired a majority stake in the project in 2020.
First power from the £3 billion development, the world's deepest fixed-bottom wind farm, was achieved in August last year, after the first turbine was installed in December 2021.
At 1.1 gigawatts, Seagreen will capable of generating around 5,000 gigawatt hours (GWh) of renewable energy annually – enough to power more than 1.6 million UK homes.
Saipem 7000 fault
Installation of the project's turbines was hampered last year after a major issue with the Saipem 7000.
During a check-up in Norwegian waters in April, the crane vessel malfunctioned and dropped its load, suffering damage in the process.
A spokesperson for Seagreen Wind Farm, said: "The installation process continues to make good progress, with 79 turbines now erected and over 90% of the jacket substructures installed.
"The programme has forecasted a period where the Wind Orca and the S7000 vessel would be off site with both vessels expected back on site in the spring.
"Teams will continue to progress with the installation of array cables and the commissioning of the already installed turbines.
"Seagreen Offshore Wind Farm remains on track for completion in summer 2023."
Seagreen hit the headlines last year after Energy Voice revealed that "the most potent greenhouse gas" in the world was released during installation.
Workers were forced to evacuate following the release of sulphur hexafluoride (SF6), which is almost 24,000 times more damaging to the planet than carbon dioxide.
Recommended for you

Rovco completes survey work for Cenos floating offshore wind farm