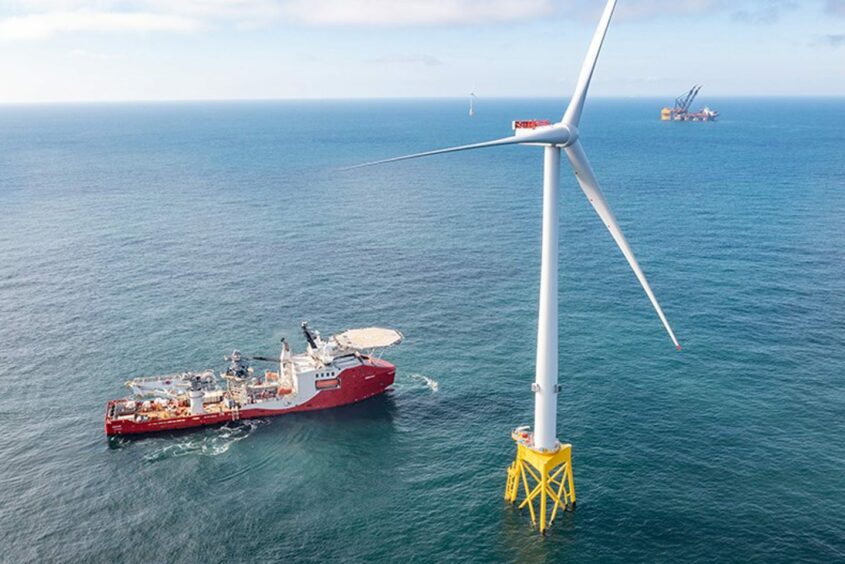 New data from RenewableUK shows Britain's pipeline of offshore wind projects now sits just shy of 100 gigawatts (GW), but faces increasing global competition for equipment and resources.
According to the trade body's EnergyPulse data, total offshore capacity at all stages of development now stands at 99.8GW, spread across 130 projects.
Notably the new figure marks an increase of 14GW in the past 12 months alone.
The total includes 13.7GW of fully operational capacity and a further 13.6GW under construction or with support secured for a route to market – a healthy line-up of work as the UK looks to install 50GW by 2030.
It follows the partial switch on of major projects like Seagreen off the Angus coast and the completion of Hornsea 2 off Yorkshire.
Looking globally, the total pipeline extends to some 1,174GW across more than 1,400 projects in 38 countries – more than 500GW of which was added in the past year.
Should all of his capacity be fully developed, it would be enough to meet 20% of global electricity demand, R-UK said.
While the UK still holds the second-largest global pipeline behind China, accounting for 8.5% of the worldwide total, it has now fallen below 10 for the first time, largely due to the rapid growth of new markets like Australasia and South America.
Operating capacity stands at 60GW, with China again in the lead with 47% (28.3GW), while the UK retains its position as the second largest with 23% (13.7GW).
Similarly, both these markets accounted for 90% of new offshore wind capacity in 2022, with China (3.8GW) and the UK (3.2GW) much more closely matched.
China and the UK are expected to retain first and second place until at least 2030, R-UK added.
'Fierce competition'
Commenting on the data, RenewableUK's chief executive Dan McGrail said: "The UK retains a powerful position in offshore wind, second only to China, but we're seeing incredible growth in new markets like Australia, the USA and Brazil.
"Since the invasion of Ukraine, there has been a global step-change in offshore wind which is a challenge to our current position as a world leader."
Mr McGrail warned there was now "fierce global competition" for investment new wind farms, and in the manufacturing facilities and supply chains needed to develop them.
"The US and EU are offering massive financial incentives for renewable energy, while in the UK the Government has been raising taxes on clean energy. These figures underline the need for bold action to attract the billions in private investment we need, otherwise the UK risks being left behind in the years ahead, with money and jobs going to more attractive global markets."
It follows a letter sent by five energy bodies representing over 750 companies – including R-UK – addressed to Chancellor Jeremy Hunt, which warned that the UK's competitiveness as an investment destination for clean energy is at "severe risk" unless he takes steps in the Spring Budget to secure green growth.