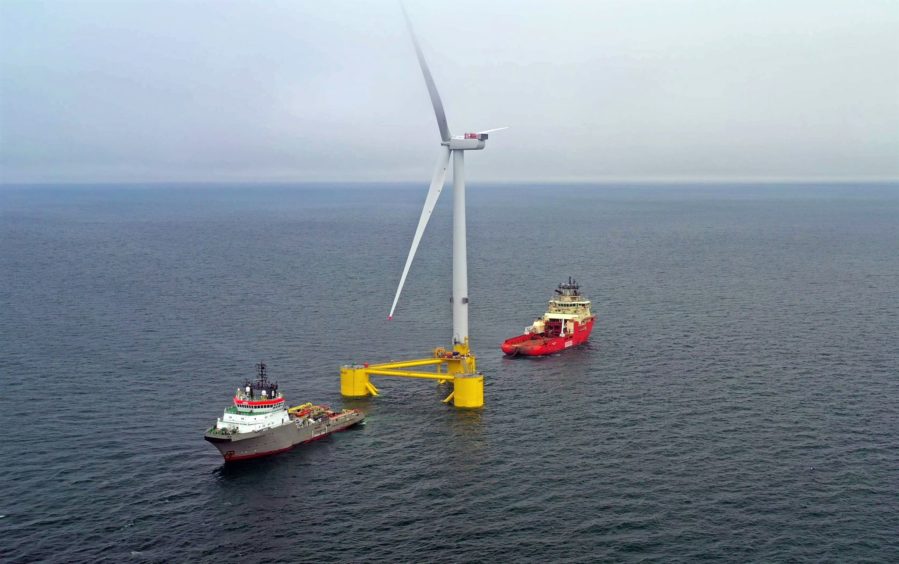 Flotation Energy and Vårgrønn have filed a scoping report for the Cenos floating wind project, their second INTOG venture aimed at powering offshore oil and gas assets.
Located around 125 miles east of Peterhead in the UK Central North Sea, Cenos would provide up to 1.4 GW of capacity from between 70 and 100 floating turbines to help power up to eight nearby oil and gas installations.
The partners this week confirmed the submission of a scoping report to regulator Marine Scotland, marking the first stage of the project's consenting process en route to delivering first power in 2028.
Turbines are set to be anchored across an area of around 128 square miles and linked to shore via a cable making landfall just south of Peterhead.
As well as providing sufficient power for oil platforms, around 5.5TWh of power per year is earmarked for supply to UK consumers.
According to the project website, developers are working in partnership with the already-consented NorthConnect interconnector project to use the latter's DC cable routing where possible.
Cenos would also use the NorthConnect onshore converter station planned for Fourfields near Boddam, which then has an agreed link into the Peterhead Substation.
Its backers say the project will help cut save estimated two million tonnes of carbon dioxide each year compared with the average for grid and offshore power generation, while supporting the commercialisation of floating offshore wind technology.
Cenos is the second scheme to be developed by the two companies, with paperwork for the 500MW Green Volt floating wind project filed last month.
Plans for the latter would see up 30-35 floating turbines anchored at a brownfield site, previously host to the Ettrick and Blackbird oil field, around 46 miles off the Aberdeenshire coast.
They hope to secure seabed leases for both projects as part of the Crown Estate Scotland's Innovation and Targeted Oil and Gas (INTOG) leasing round, the results of which are expected some time in Q2 this year.
Flotation chief executive and co-founder Nicol Stephen said: "Submission of the Cenos scoping report keeps us on track to deliver renewable power to many of the oil and gas platforms in the central North Sea as early as 2028."
"Cenos will make a significant contribution to Scotland's net zero target, removing two million tonnes of carbon from our energy system each year. The scale of the project is huge. It will deliver billions of pounds of new infrastructure investment and help create thousands of local jobs, helping to make the energy transition a reality."
Vårgrønn CEO Olav Hetland said the project would help meet the decarbonisation goals of the UK oil and gas sector "while simultaneously kick-starting the development of a world-leading local supply chain for floating offshore wind centred on the North Sea."
Under its proposed timeline, the partners intend to make a final investment decision (FID) on Cenos in 2026, with construction beginning the following year.
Recommended for you

Cerulean Winds signs exclusivity agreements for three INTOG floating wind sites