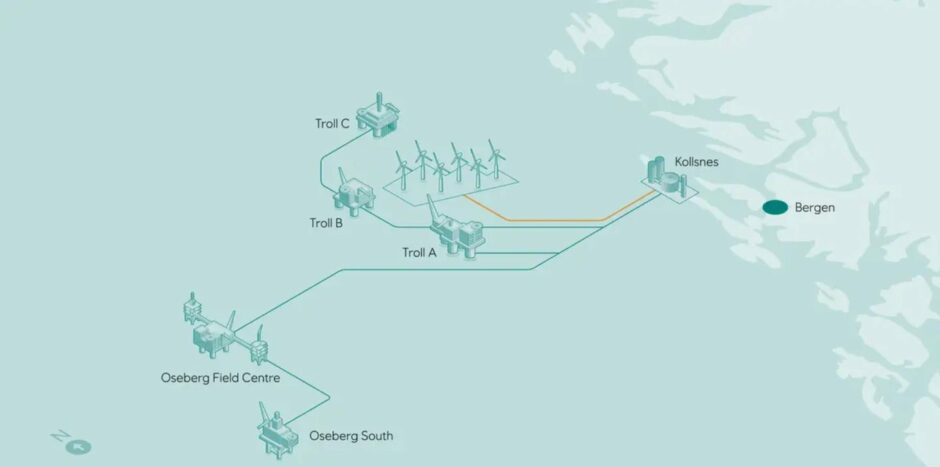 Equinor has decided to postpone Trollvind, its project to power oil platforms with floating wind, "indefinitely".
The firm, majority owned by the Norwegian state, said it is due to several challenges including technology availability, rising costs and a "strained timetable".
Equinor had targeted a final investment decision (FID) this year, ahead of a potential start-up in 2027.
The concept was around using floating wind to deliver much of the power needed for platforms across the Oseberg and Troll fields in the Norwegian sector of the North Sea and the onshore Kollsnes plant near Bergen.
Using a specific floating wind project was hoped to help overcome some of the power constraint issues around Bergen as demand in Norway ramps up.
Siri Kindem, vice president of renewables Norway, said: "We appreciate all the positive response towards Trollvind from politicians, suppliers, and authorities.
"Trollvind was a bold industrial plan to solve pressing issues concerning electrification of oil and gas installations, bringing much needed power to the Bergen-area, while accelerating floating offshore wind power in Norway.
"Unfortunately, we no longer see a way forward to deliver on our original concept of having an operational wind farm well before 2030."
The offshore wind sector is facing major costs over inflation – coupled with downward price pressure from auctions like the CfD in the UK.
Meanwhile, as floating wind is on the rise, the supply chain has capacity problems.
Equinor said rising costs have challenged the original thinking around Trollvind – that it would not require any financial support – and it is therefore no longer commercial.
The firm also pointed to challenges in technical solution, with the technology not being available.
Despite the setback, Equinor said the knowledge and learnings will be applied to other projects.
Recommended for you

Flotation Energy looks to the next set of giant UK floating wind farms