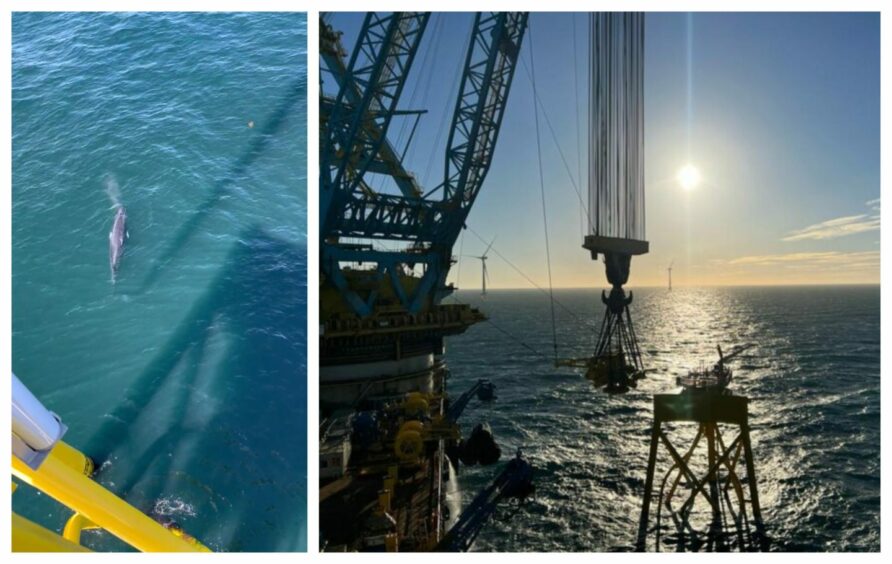 A renewables worker has captured a striking video of a Minke whale taking a swim next to a Scottish offshore wind turbine.
SSE Renewables has shared the footage, filmed by Gareth Rodgers, of the animal beneath making a surprise visit to one of the units at the Seagreen development, off Angus.
In the video, the minke whale, a species of baleen whale, surfaces and blows, before heading away from the turbine.
According to NatureScot, Minke whales are usually between 7 and 9 metres long, can live for up to 50 years, are frequently seen in Scotland during the spring and summer months.
All videos and images are credited to Gareth Rodgers/SSE.
In a post on Twitter, the Seagreen project posted: "Minke Monday – Here's a lovely video of a minke whale that we've captured on camera next to one of our Seagreen turbines. Thanks so much to Gareth Rodgers for sharing!"
It is not the first time the creatures have been spotted interacting with energy infrastructure in the North Sea.
Last year a turbine tech working on SSE Renewable's Beatrice wind farm, around eight miles off the Caithness coast in the Outer Moray Firth, captured stunning footage of whales.
Danish renewable energy giant Orsted has also shared a video of a Minke whale near its Hornsea One wind project.
Meanwhile, the crew of the Maersk Innovator, now called the Noble Innovator, videoed a Minke carrying out its own subsea inspection while the rig spudded a well.
Seagreen
Last month Seaway7 installed the final foundation at Seagreen, concluding its 18-month installation campaign.
The final, 114th jacket foundation was successfully installed by the Saipem 7000 crane vessel, which has been deployed for to lift each of the 2,000-tonne foundations into place.
A joint venture between TotalEnergies (51%) and SSE Renewables (49%), Seagreen will be Scotland's largest and the world's deepest fixed foundation offshore wind farm once complete.
The project's 114 turbines will provide enough green energy to power more than 1.6 million homes, equivalent to two-thirds of all Scottish homes.
They will also displace over 2 million tonnes of carbon dioxide from electricity generated by fossil fuels every year.
Recommended for you

Safety concerns for offshore wind as HSE has only four inspectors on-hand