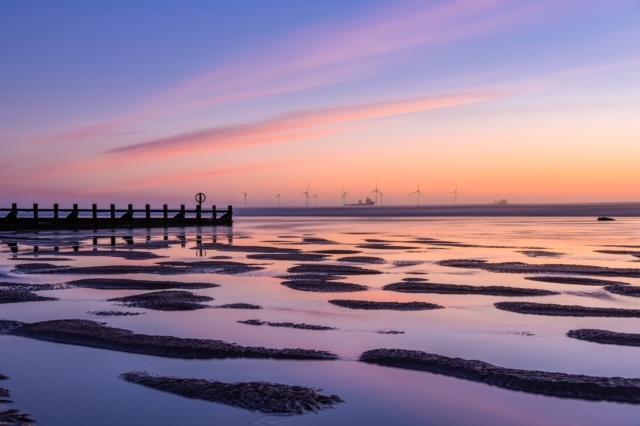 Scotland's renewables industry has been reacting to the results of the much anticipated, £700 million ScotWind leasing round.
Crown Estate Scotland published the winners list on Monday with Big Oil and green energy giants among those selected to shape Scotland's offshore wind future.
A total of 17 projects have been given the go ahead, raising almost £700 million that will go to the Scottish Government.
ScotWind has attracted a remarkable scale of interest from around the world, demonstrating Scotland's offshore wind potential.
READ: BP, Shell and SSE Renewables among ScotWind winners
An 'incredible platform' for transformation
Claire Mack, chief executive of trade body Scottish Renewables, says the process gives Scotland a "historic opportunity" to create a major new industry.
She said: "Today's announcement on the outcome of the first ScotWind leasing round is an exciting and significant moment in Scotland's renewable energy story, with offshore wind set to make a major contribution to bringing about our net-zero future. The potential for 17 new projects creates huge ambition for our sector to deliver on, and will require strong collaboration to deliver maximum impact for our economy and environment. The scale of commitment to Scotland's supply chain outlined alongside today's announcement creates an incredible platform for industrial transformation and revitalisation.
"These lease offers add greatly to our existing pipeline of projects in construction and development. Scotland now has an extensive and attractive offshore market, and the most seabed dedicated to commercial floating wind development anywhere in the world. These 11 floating wind projects give Scotland a historic opportunity to create a major new sector to drive the blue economy, drawing on our deep water expertise and making a just energy transition a reality in the North Sea."
'Many challenges' still await
Ms Mack went on to congratulate the winning companies for their "strong proposals" whilst adding that "many challenges" still await.
She also noted the "range of both established and new faces" that make up the list of successful bidders.
"It is particularly exciting to see wind farms able to progress right around our coast, from Islay in the west, to Lewis and Orkney and right down the east coast. This means a new range of communities are set to benefit from the growing economic impact of the offshore wind sector. Throughout this leasing process bidders have put forward their plans to maximise their use of Scottish suppliers, and now the whole sector is able to move forward in a strategic way to invest for the long-term success of our ports and supply chain," Ms Mack added.
The 'start of a new era'
RenewableUK's deputy chief executive Melainie Onn also reflected on the magnitude of the announcement.
She hailed it as the "start of a new era" for the UK's offshore wind sector, describing ScotWind as one of the "biggest ever steps" towards hitting net zero.
"To put this landmark into context, the 25 gigawatts of new capacity announced today is two and a half times the UK's entire current offshore wind capacity. It's also equal to the entire current operational offshore wind capacity for the whole of Europe. It will scale up our ability to slash emissions exponentially. In the long term, it will also help to reduce the UK's vulnerability to international gas prices which are hurting consumers," Ms Onn said.
"Overall it's a massive economic boost for the whole country at just the right time. These projects will attract billions of pounds from private investors, which will create thousands of skilled jobs and allow us to maximise supply chain opportunities all around the UK. It also underlines the need to speed up the planning process, so that we can connect these offshore wind farms faster across the UK to meet our targets for 2030 and beyond."
Floating aspect 'highly significant'
Although floating wind, a relatively nascent technology, was expected to be a big part of ScotWind, it perhaps wasn't expected to dominate the process.
But more than half of the bids selected by Crown Estate Scotland are for floating wind farms, a big step forward in efforts to make them mainstream.
Ms Onn said: "It's highly significant that 60% of the new capacity announced today is for floating offshore wind projects. This will secure the UK's lead in innovative floating wind, generating enormous amounts of power from the best wind resources in Europe, as well as creating opportunities for us to export our cutting-edge technology worldwide."
A 'once in a generation' opportunity
Given the scale of the offshore wind farms that will one day be built, many are hoping that ScotWind will signal a new dawn for Scotland's manufacturing sector.
Ports and harbours are already readying themselves for a huge influx of work and a number of large-scale infrastructure projects are ongoing.
ORE Catapult chief executive Andrew Jamieson says ScotWind presents a "once in a generation opportunity" for Scottish innovation, expertise and manufacturing.
He said: "The results of this first Scotwind auction are huge. 25GW of offshore wind, or almost two and a half times more than the total so far deployed in all UK waters, demonstrates extraordinary ambition and could make a seismic, positive shift in Scotland's journey to Net Zero. It presents a once in a generation opportunity for Scottish innovation to come to the fore and drive economic and supply chain growth and job creation.
"That such a significant portion of the anticipated new projects should be floating wind positions us at the global forefront of this transformative new technology, and ORE Catapult very much looks forward to working closely with the potential industrial participants, the Scottish Government and Crown Estate Scotland to realise the massive opportunity."
Recommended for you

Royal opening for £420m Port of Aberdeen expansion