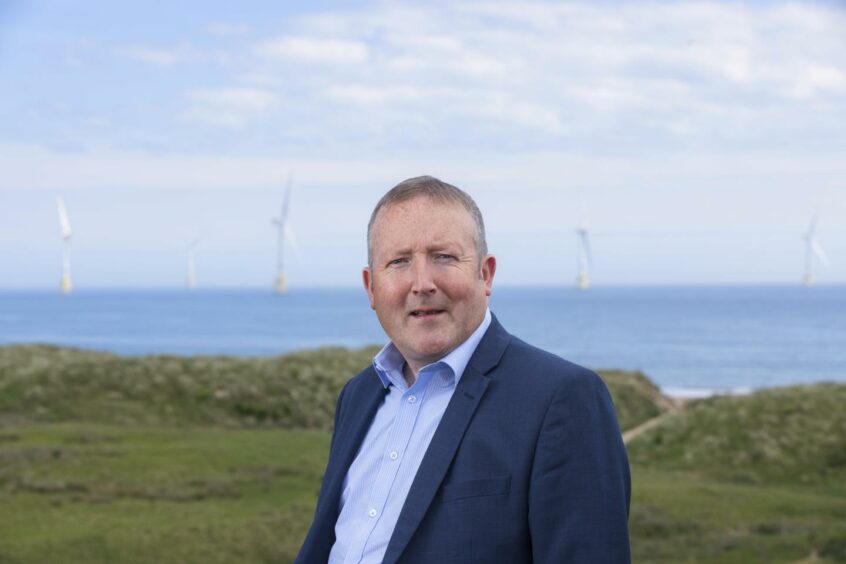 ScotWind will unlock a raft of "fantastic opportunities" for the north-east of Scotland the head of a local energy transition organisation has predicted.
David Rodger, chief executive of Aberdeen Renewable Energy Group (AREG), says offshore wind offers companies in the region the chance to show off the "amazing capabilities" they've built up in the oil and gas industry.
Crown Estate Scotland unveiled the 17 offshore wind projects that were successful in its leasing process on Monday.
With a combined capacity of around 25 gigawatts (GW), the announcement of the successful schemes was met with much excitement from across the country.
Mr Rodger said: "It's a hugely significant day for the Scottish renewables industry. It's great to welcome this news because I really do think that this will result in some fantastic opportunities for the north-east of Scotland and beyond.
"What we're looking at here is the delivery of world class projects within Scottish waters."
Big Oil a boon
Unsurprisingly some of the world's biggest renewables companies – including Orsted and Vattenfall – were named among the winners.
Big Oil also made a significant splash, with North Sea stalwarts BP, TotalEnergies and Shell all securing acreage.
And given their large footprints in the north-east, and Aberdeen specifically, Mr Rodger says their inclusion is significant.
"It's very welcome that these major energy companies have had success within this ScotWind round and we really look forward to seeing the projects that they will be able to deliver," he said.
"With 50 years of oil and gas experience, the north-east of Scotland will really look to play its part in this ScotWind round and many of the skills that are needed for large scale offshore wind are very similar to those that the industry in the region possesses."
He added: "It is a considerable opportunity for Aberdeen, the oil and gas industry and the many supply chain companies.
"Let us be clear as well, ScotWind is above and beyond offshore wind. It includes hydrogen opportunities too and there are some fantastic companies in the north-east that will be able to provide the innovation and tech to help deliver that."
A just transition
One point on which Scotland's offshore wind sector will be judged is its ability to absorb jobs from the oil and gas industry in the coming decades.
As production in the North Sea progressively winds down, there are fears that workers could be left on the scrapheap.
BP previously announced Aberdeen as the base for its global offshore wind business, with TotalEnergies making a similar move in a drive to help employees into the sector.
Mr Rodger said: "The oil and gas industry is an industry in transition. The North Sea Transition Deal is there to help the industry in terms of moving into some of the opportunities that ScotWind will provide.
"The opportunity for skills transfer should be there and there is a lot of attention and effort on delivering that."
Recommended for you

BP advertises collaboration openings on Scottish offshore wind farm