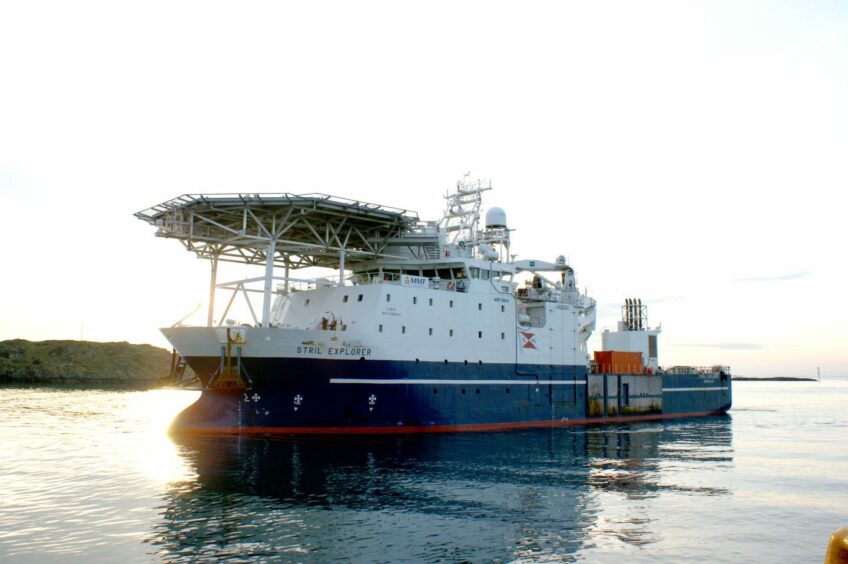 Two major marine contractors have secured work providing geotechnical investigations at the site of the Ossian floating wind farm off Scotland's east coast.
Set to be located across 858sq km of seabed southeast of Aberdeen, acreage for Ossian was secured by a consortium of SSE Renewables, Japanese conglomerate Marubeni Corporation and Danish fund manager Copenhagen Infrastructure Partners (CIP) in last year's Scotwind leasing round.
Under new contracts announced on Monday, Fugro will be brought in to carry out downhole geotechnical sampling and in situ cone penetration testing, while Ocean Infinity will focus on the seabed scope which will include shallow vibro-cores and deep push seabed cone penetration tests.
Both surveys are set to begin this spring, with a full geophysical and benthic survey of the area having already been carried out last year.
Ocean Infinity expects to have completed its survey work by the end of May while Fugro expects its downhole scope survey to be completed at the start of July.
The surveys will significantly improve the seabed understanding across the project site by ground-truthing the already acquired geophysical information, SSE said.
The information gathered will support design development for the scheme, aiding things like anchor in-place and installation design.
Fugro plans to use its purpose-built geotechnical drilling vessel, the Fugro Scout, while Ocean Infinity will use its Stril Explorer vessel.
Under present plans, Ossian could power up to six million homes and offset up to 7.5 million tonnes of carbon dioxide emissions each year.
Last year SSE said it was investigating the possibility of increasing the scheme's size by up to 1GW, from 2.6GW to 3.6GW.
"This is a major step forward in the exploratory work needed to make the Ossian Wind Farm a reality," said SSE Renewables' offshore geotechnical technical authority John Davidson.
"After a competitive tendering process, it was clear that Fugro and Ocean Infinity have the skills, equipment, knowledge and expertise to embark on a survey of this scale.
"The Ossian team look forward to working with both companies and to realising the geotechnical investigation results which will be integral to the progression of what would be a world-leading floating wind project."
Fugro project manager Marscha de Bruijn added: "Our global expertise, resources and technical capabilities will be used to provide superior Geo-data on the soil conditions below the seafloor to help inform future designs and add value to the project."
Meanwhile Ocean Infinity's chef commercial officer Nils Ingvarson said the company was "thrilled" to have been chosen to support Ossian's development.
"We are committed to contributing to a more sustainable future and as such are very proud that our geotechnical services will play a significant role in the work needed to make this new floating wind farm a reality."
Recommended for you

CIP partners with Statkraft on 2.2GW Irish offshore wind