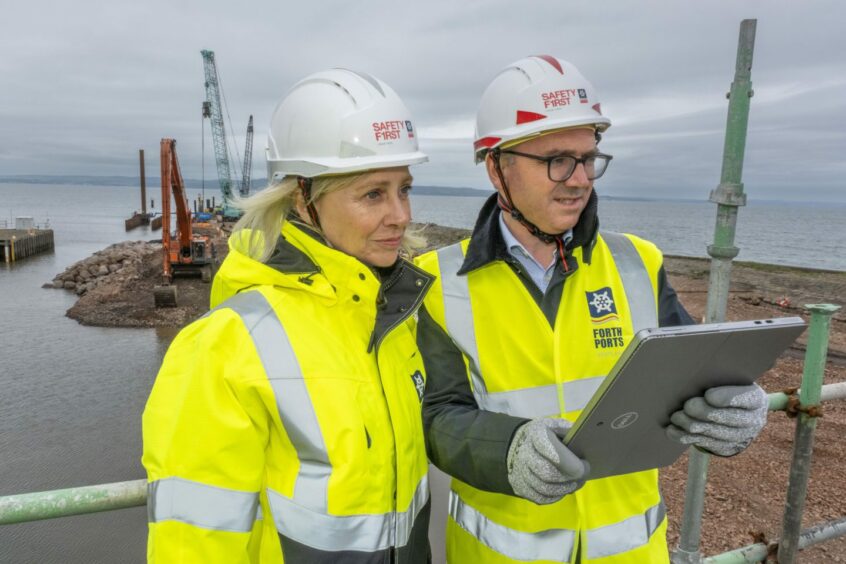 As a new £50m renewables hub takes shape in Leith, BP and EnBW are building a team to deliver not just a 2.9GW wind project but a long-promised "commitment to Scotland."
Secured in last January's ScotWind lease round, Morven is a 2.9GW project set to be built in the E1 lease area, around 40 miles off the coast of Aberdeen.
Central to the developers' bid was a seven-figure cash injection into a new renewables facility in Leith, Edinburgh – the bones of which are now beginning to take shape.
Billed as Scotland's "largest renewable energy hub" owner Forth Ports is investing £50m in the 175-acre site to develop a wind berth and laydown space. Having begun in January, work is now underway and an outer berth is well into construction and scheduled to open by summer 2024.
The partners' investment was followed last year by a marshalling deal securing space in the yard well ahead of Morven's construction phase later this decade – all part of a promised £10bn project spend, of which £2bn will land in Scotland alone.
Speaking to Energy Voice in Leith last week Richard Haydock, BP's project director for UK offshore wind, explained what role the facility played in its bid.
"When we looked at the bid, we wanted to demonstrate a real commitment to Scotland and we wanted to make sure that was something that we could materialise quickly, so that people could see that we were delivering on the commitments that we'd made.
"Part of it was to say: 'We're serious about Scotland – We're going to do something and we're going to do something quickly,' so that benefit starts to come through quickly."
Oil and gas skills in action
Turning to Morven, he says offshore work is also progressing, with this year marking a third season of ornithological surveys, as well as new geophysical and geotechnical work to complement campaigns carried out last summer. Emphasising the spirit of ScotWind collaboration, some of this work is being carried in out in conjunction with other east coast developers.
Onshore, early pre-FEED work has begun, with engineering group Kent supporting foundation design and WSP handling electrical system design.
A dedicated project team is also coalescing, made up of BP staff – many of whom have transferred from the supermajor's oil and gas business – as well as external hires and from partner EnBW.
"At the moment we are around about 60 in total, Mr Haydock says, though he expects "well over 100" as we the project moves towards construction phase.
Housing them will be a new dedicated project office in Edinburgh set to open this summer, set up to be nearer the Port and the components due to be shipped in and out once work begins in earnest.
Despite their new location, he is quick to note that a new office does not mean a loss of capacity in Aberdeen.
"Aberdeen is an important base for us and it and it gives us that access to that core group of individuals in our oil and gas business, and we want to create opportunities for them.
"That's why we've got the team in the Aberdeen office, and we will continue to look for opportunities to transition more people from our oil and gas business into offshore wind.
Indeed, he says around 20 people are now working in a dedicated offshore wind zone within BP's Aberdeen office supporting projects like Morven, Morgan and Mona in the Celtic Sea, its recently secured INTOG project and wider global offshore wind activity.
"It's not just for Morven… It's also for other parts of BP and other opportunities that we might look at in offshore wind, so that will remain a core area," he adds.
Supply chain opportunities
Work on consenting is progressing, with the team soon heading into the scoping phase which will involve "imminent" submissions – kicking off the formal consenting process in the public domain, he says.
Outside of BP, early supply chain engagement is also underway. Another central component of its joint ScotWind bid was a 2021 supply chain portal aimed at highlighting opportunities for local procurement – something Mr Haydock says has been "very successful."
"We've had over 800 companies put in details for that, and so we are looking at that portal to identify companies that we can potentially work with," he said.
Alongside the early work already dished out to the likes of consultancies like Kent, the Morven team are now engaged with a number of other Scottish companies on potential opportunities – though it remains too early to confirm any decisions on major contracts such as foundations and fabrication.
"We've said it's most likely to be jackets, but we're working to confirm that that is the right foundation technology," Mr Haydock added. "Once we've made that confirmation and we've got our designs, we'll then move on into the contracting process."
All this comes ahead of targeted final investment decision (FID) in 2027.
Some time on Leith?
With Forth Ports positioning its Leith site as a major hub for work in Scotland, does BP and EnBW's early commitment mark the beginning of a long relationship?
"I think it's too early to say because Morven takes us up to 2030, that's quite a long time anyway," he says. "But what we do want to ensure is that Forth Ports and Scotland get the benefit of the investment that we've made.
"It's certainly not an exclusivity basis. What we want to see is we want to see it used, fundamentally we want to see it generating value for Scotland. And the sooner that can start and the longer that goes on, the better value we get for our investment.
"Our project will be part of that, but hopefully it will be part of a pipeline of projects that will be delivered from Leith."
A great deal of work on Morven still lies ahead – not least in actually building and connecting it to the grid. But the promised commitment to Leith – and its future as a key asset in Scotland's renewable energy ambitions – do not appear to be in doubt.
Recommended for you

Safety concerns for offshore wind as HSE has only four inspectors on-hand