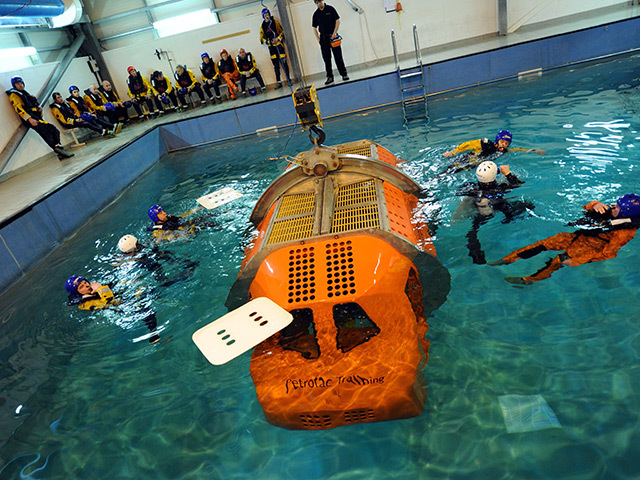 Whether they are trying to break into the industry or have been flying to rigs for years, one thing offshore workers seem to become nervous about is the safety exercises they need. Ross Davidson confronts his fear and goes through the helicopter training course to find out what is in store for anyone flying to a North Sea platform
As the helicopter goes into the water, it takes a huge effort to stop myself from panicking.
There is just enough time for one last breath before I am underwater and planning my escape to safety.
Briefings that went on for hours could not prepare me for the feeling of being trapped upside down in the helicopter fuselage, a feeling every offshore worker will recognise from their training.
My experience only lasted one day, but those who regularly fly to North Sea rigs must go through three days of training before they can make their first helicopter flight.
In that time, they learn how to get free of a sinking helicopter, how to tackle fires offshore, and how to escape from an emergency on an oil rig as part of their basic offshore safety induction and emergency training course (Bosiet).
By the time they step on to a helicopter for the first time, they know how to save their own life and the lives of others in almost any situation.
As for me, I felt tense before I even put on the bright yellow survival suit, designed to protect me from the freezing conditions in the North Sea if I am on a helicopter which has to ditch over the water.
Without it, I would only survive for a matter of minutes.
With that in mind, I try to keep myself calm as the helicopter is lowered into the pool and turned upside down. As I unbuckle myself from my seat and concentrate on taking deep breaths through my emergency breathing system, I fight my way out of the window and to the surface.
Moments later, my fellow trainees emerge and we are all safe.
As the adrenaline begins to wear off, however, you realise that, in the training scenarios at least, you always were safe.
Before escaping from the upturned, submerged fuselage, I had already practiced getting out of a ditched helicopter six times that day, so deep down I knew what I needed to do and when I needed to do it.
And if panic does set in? Along with me and my three fellow trainees, five instructors are on hand, closely watching our actions and reactions for any sign of stress, while there are other safety measures behind the scenes ready to kick in if something does go wrong.
Mike Raby, a survival and marine team leader at Petrofac Training Services, said anxiety was not unusual among the clients at the training provider's facility, however.
He said that although the Bosiet course lasts three days and contains a lot of classroom learning as well, it is the helicopter underwater escape training (Huet) which plays on people's minds.
Mr Raby, who has been involved in offshore training for eight years, said some oil and gas workers became nervous because of scare stories they had heard from colleagues or friends.
"There is anxiety associated with doing anything new, and that is a fairly common thing no matter what you are doing," he said.
"It is unfortunate that there are a lot of misconceptions and inaccurate information about survival training, and that plays a big part in building up people's nerves."
Mr Raby said clients may also feel pressure to complete the course at the first attempt because of fear for their job or employment prospects, but said Petrofac offered delegates the chance to go back at a later date for free if they do not complete the training first time around.
"You can understand why people think it is not the most pleasant of experiences, so there are things we do to help reduce people's anxiety," he said.
Mr Raby said that despite initial hesitance in some cases, most trainees grow into the training – and may even enjoy it.
He said: "It is so far outwith anything most people have done before, but we provide a very controlled environment with a strong focus on safety.
"We get a lot of feedback from people not expecting to take any pleasure from it, but who do find that they actually enjoyed it."
Recommended for you

North America: enterprising, dynamic and opportunistic