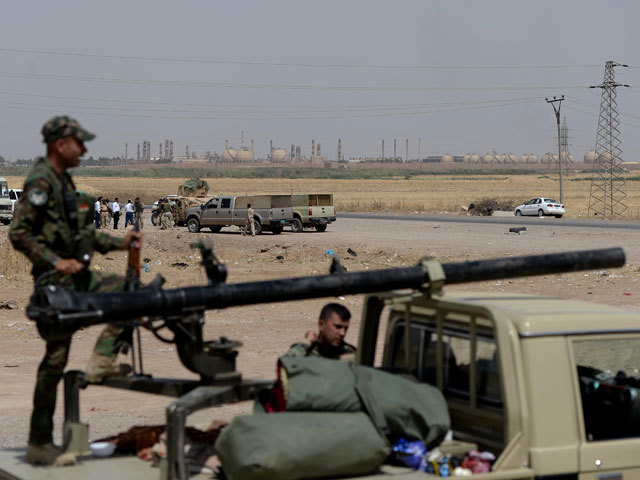 UK government officials fear that oil workers working in Iraq could be kidnapped and handed over to the brutal militant group looking to create a new Islamic state in the region.
The Foreign Office warned in May that UK oil workers are facing an increased threat of kidnapping in the country.
Since then, fighters with the al Qaida-inspired Islamic State of Iraq and the Levant (Isis) group have taken over large parts of northern Iraq and Syria.
A Foreign Office source said that the threats against oil workers have not come from a specific group.
However, they fear that workers could be kidnapped and passed to Isis, which has announced creation of an Islamic "caliphate" – a state governed by Islamic sharia law.
Last night, north-east terrorism expert David Capitanchik said the threat was a "very difficult problem".
"This type of thing is happening in more and more places," he said.
"Local people looking for money target oil workers and threaten to hand them over to militant groups if they don't get a ransom.
"It is a very difficult problem – in many cases paying a ransom is the only way to guarantee the safety of staff."
Isis has proclaimed its leader, Abu Bakr al Baghdadi, as caliph of its new state and demanded Moslems everywhere pledge allegiance to him.
The Sunni extremist group has carved out a large chunk of territory that effectively erases the border between Iraq and Syria and laid the foundations of its proto-state. It has battled Syrian rebels, Kurdish militias and the Syrian and Iraqi armies.
Whilst much of the fighting has taken place in the north, the Foreign Office has warned workers to be on alert in the southern province of Basra – home to Iraq's oil and its gateway for exports.
The US embassy has also issued a warning to its citizens.
"Militant groups may be surveilling US citizens for possible kidnapping operations, particularly oil company employees working in Basra province," the embassy said in a statement.
"The groups may be focused on US citizens at hotels in the Basra area."
The Foreign Office said that the US warning applied equally to UK citizens, particularly oil company employees working in Basra province.
On June 18,oil workers started pulling out of Iraq.
Oil giant Exxon Mobil carried out a "major evacuation" of all staff, while BP has removed 20% of its workforce amid fears that extremists could strike at major oilfields in the south of the country.
The Iraq government has assured oil firms that the 100,000 police dedicated to protecting them are on high alert. And officials have said that the southern regions – which produce the bulk of the country's oil – are safe.
Recommended for you

After violent kidnapping, CEO freed