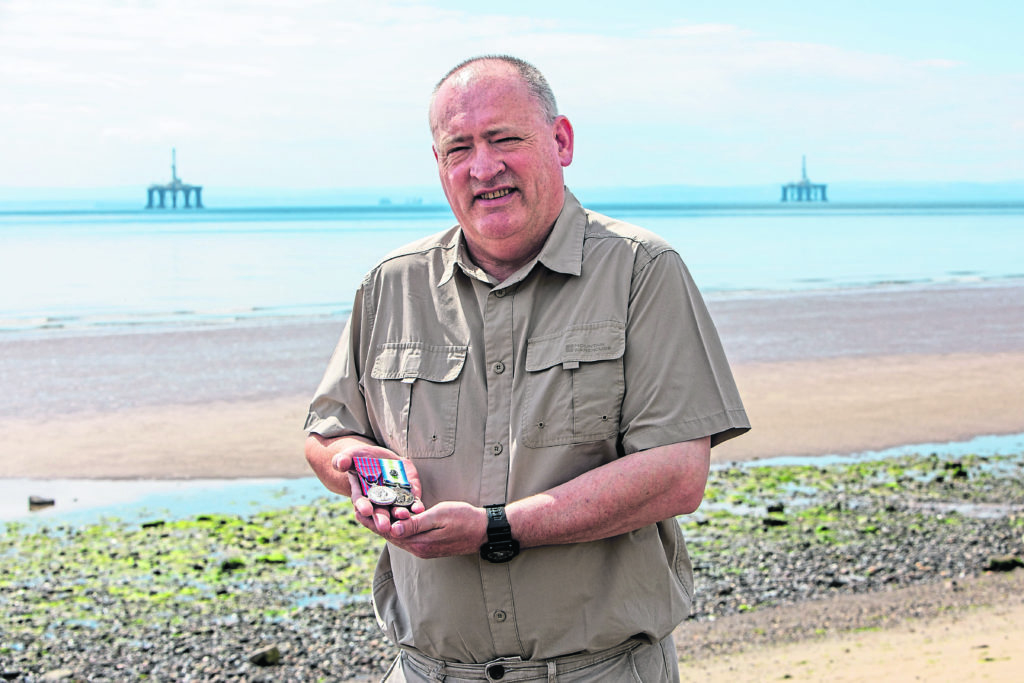 They are two words inextricably linked with tragedy and human loss on an unprecedented scale in the history of offshore energy.
And today, 30 years after the cataclysm on Piper Alpha claimed the lives of 167 men, people from across Scotland will pause to reflect on the events which cast a shadow over the many families whose loved ones never came back.
For those in Aberdeen who make regular visits to the memorial in Hazlehead Park, time has lent perspective to the calamitous mistakes that destroyed the platform, even if they will never forgive or forget the corporate complacency that was the catalyst for the disaster on July 6, 1988.
Amid the horrors which unfolded around Piper Alpha, there were tales of gallantry and heroism, where men on the burning rig leapt into the North Sea and were plucked from the jaws of catastrophe.
But as Charles Haffey, one of the crew members on the standby vessel Silver Pit recalled: "It was a vision of hell. You could not have imagined anything like that would ever happen. The heat, the noise, the sense this was something beyond anybody's worst nightmare, swept all over us as we neared the scene."
Mr Haffey subsequently received the George Medal, alongside several of his colleagues. And yet, he never regarded himself as anyone special. He had fought in the Falklands War but this was altogether different.
He said: "They made a big fuss about us going to Buckingham Palace but I always thought it was more of an award for all the men who joined the rescue mission that night.
Nobody was any more or less brave than the others. We all went into Dante's Inferno. Some of us came back. Others didn't."
Those who survived had different responses to their experiences.
Some were badly affected by post- traumatic stress disorder and wandered around in a fug of incomprehension.
Others sought refuge in drink. Marriages broke up and relationships were splintered as the aftershock of Piper Alpha inflicted a heavy toll.
Yet eventually, as Lord Cullen's report concluded that Occidental's management had shown "a dangerously superficial approach to safety", several of those who escaped made it a pivotal part of their lives to ensure there would never, ever be a repeat of that horrific night.
Steve Rae, one of their number, who is now the operations manager of Well-Safe Solutions in Aberdeen, has devoted his career to improving offshore safety and he says: "We have come a long way in terms of learning from events, although the industry is still not great at sharing."
But, even now, he recognises the random nature of what happened on Piper Alpha.
He added: "I have never suffered flashbacks to the disaster. But, at some point in every day, there is a time when I remind myself that it all could all have been so different. And I know I am blessed to be here."
Both the oil and gas sector and the unions are united on this issue at least, speaking about their collective determination to keep striving for greater safety for those on the rigs, whether during helicopter trips or once they have arrived at their workplace.
Les Linklater, the executive director of Step Change in Safety, insists: "Ultimately, we all take the safety of our people incredibly seriously. And we will continue to do our very best to make it better."
Pat Rafferty, Scottish secretary of the Unite union said: "The Workers Memorial Day has a strapline: Remember the Dead, Fight for the Living. We do remember. We will never forget. But we must also make sure the industry is as safe as it can be to ensure workers return home after their shifts."
A special commemorative event today will demonstrate that the solidarity evident in the aftermath of the disaster has not dissipated.
The names of the victims will be read aloud at the service, which will start at 7pm on July 6 at the Memorial Garden in Hazlehead Park. A lone piper will play a lament followed by a minute's silence.
It will be led by the Reverend Gordon Craig, chaplain to the UK offshore oil and gas industry. And his message about why everybody should stop to pay tribute to those who perished explains why the story of Piper Alpha reverberates throughout the world.
He said: "Thirty years may seem a long time, but for those who lost a father, son, brother, husband, partner, friend or colleague, the tragedy is still very much part of their life.
"Our commemoration is an opportunity to gather together and remember all those loved ones who never came home."
To follow more of our special Piper Alpha 30th anniversary coverage, click here.
Recommended for you

Libya's eastern flood devastation raises political risk