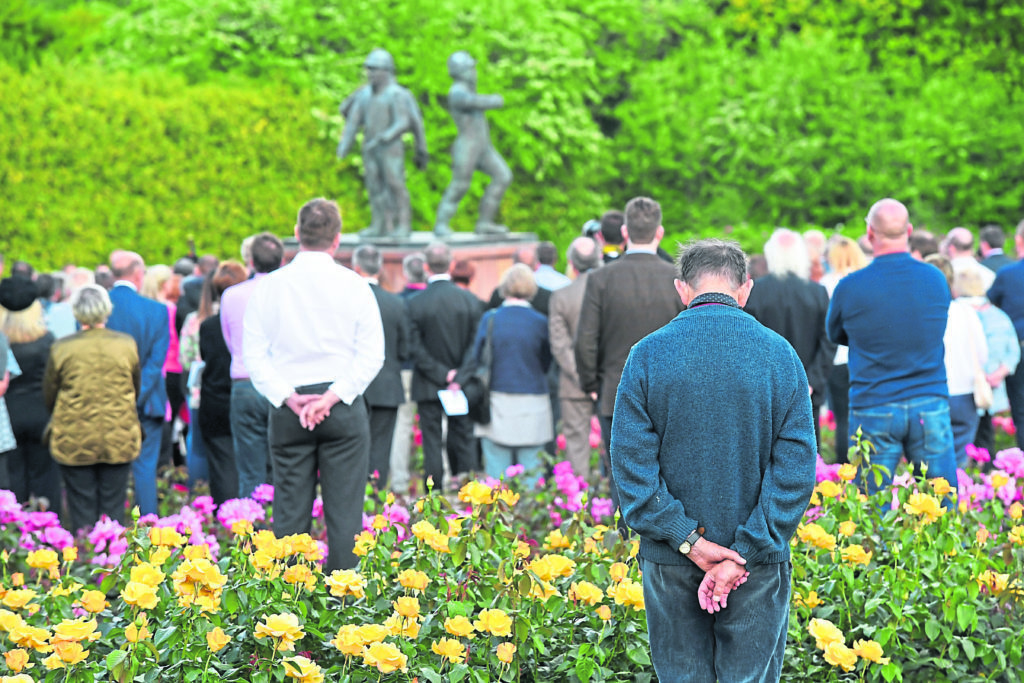 Nearly 1,000 people gathered at a special memorial event last night to remember the 167 men who died in the Piper Alpha disaster 30 years ago.
A roll call naming all those killed was read out at the memorial garden in Hazlehead Park on the anniversary of the tragedy.
Wreaths were laid by the Lord Provost of Aberdeen, the chief executive of Oil and Gas UK and a trustee for the Pound for Piper Trust.
Tributes were also left by Baroness Goldie, representing the Secretary of State for Scotland and energy minister Paul Wheelhouse on behalf of the Scottish Parliament.
The Reverend Gordon Craig, chaplain to the UK oil and gas industry, led the commemoration service in remembrance of the men who lost their lives on July 6 1988.
Afterwards, he said: "It was certainly an incredibly emotive event.
"Piper Alpha had such an effect on so many people's lives and it shows that people do want to mark and remember it and somehow do something for the person they've lost."
The organisers of the event had estimated a turnout of around 700 people. However, more than 920 turned up to mark the occasion.
The Rev Craig said: "The emotion tonight was clear to see.
"Not only from those who have lost their own generation but we saw children here and adults of the age where it was probably a parent they lost, with their children as well."
Lord Provost of Aberdeen, Barney Crockett, said the event was "profoundly moving".
"Everyone in Aberdeen and way beyond recognises the incredible sadness of that event," he said.
"It really changed so much for so many people but, of course, was particularly a terrible event for so many families and we remember that with great feeling."
The explosion that triggered the Piper Alpha disaster was caused by high pressure gas leaking from a pipe that was not closed off properly following maintenance work.
Many of the men working on the rig died and the platform was completely destroyed. It took almost three weeks for experts to bring the burning blaze under control.
Chief executive of Oil and Gas UK, Deirdre Michie, said: "It has been a really important event to ensure that, as an industry, we come forward to remember this dreadful event that happened 30 years ago.
"It's really important we come and honour the men that died and we support their families, colleagues and friends and that we keep remembering them so that we don't repeat the mistakes of the past."
The commemoration was due to be streamed live over social media to allow families unable to travel to Aberdeen to also remember. While the stream succumbed to technical difficulties, a video was uploaded later to The UK Oil & Gas Chaplaincy Facebook page.
To follow more of our special Piper Alpha 30th anniversary coverage, click here.
Recommended for you

Bid to create Aberdeen memorial statue for North Sea divers