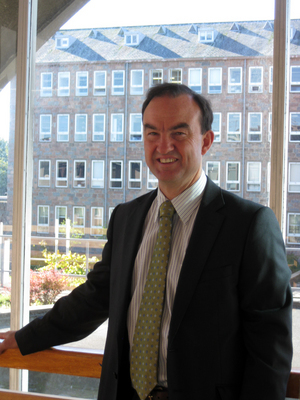 2016 will be a "super tough" year to graduate for students studying oil and gas related subjects, according to the head of the University of Aberdeen's energy institute.
John Scrimgeour, who has more than 30 years experience in the industry, prior to becoming executive director at the Aberdeen Institute of Energy 2013, said the downturn in the industry had taken a toll on graduate opportunities.
However, he said he was encouraged that big oil and gas players continued to recruit new talent, despite the global oil price crash and glut of crude in the market.
"When the oil price came gown in 2014 I anticipated we would see more people choosing to improve their qualifications by doing a post graduate course and take time out from the work place. It's going to hard for those students graduating this year, but I do think that we are not far off the end of the downturn.
"My own opinion is that we will begin to see things improve in 2017.
"I was around in 1986 when the first big oil crash hit and a lot of graduate engineer friends who were laid off. Many companies had a last in-first out policy.
"Companies are having make difficult choices again but I think they are slicing off the side of the triangle, which means they are retaining young graduates and are still hiring young people. I know that BP, Schlumberger and Shell are doing so.
"It stops the hole in the demographic that people have been worried about for years."
Scrimgeour added: "2014 was a record year for admissions for energy courses, when we had 750 applications. In 2016 it's more in the high 600s.
"Numbers are lower this year, but the number of international student is up. The University of Aberdeen has a broad spread of overseas students from the likes of Kazakhstan, Brunei and from African countries."
The University launched the Institute of Energy in 2013 with the goal of creating a global centre of energy research, industry collaboration and education. Scrimgeour said Aberdeen was still world class when it came to collaboration between academia and the oil and gas industry.
"Between ourselves and RGU we have an oil and gas community that is very involved in passing knowledge and experience that students find invaluable. That is a big attraction for those studying energy related courses.
"Aberdeen leads the way in the UK and internationally when it comes to accessibility and willingness of highly experience professionals to come in. We have around 200 industry people available."
The Robert Gordon University announced last week that the falling oil price had led to it reducing headcount by 100.
Recommended for you

Namibia: Shell and TotalEnergies giant oil discovery threatens resource curse