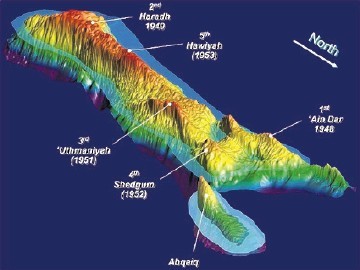 A team of University of Aberdeen students are aiming to take on multinationals Halliburton and Schlumberger on at their own game by using open source software to create new low-cost reservoir modelling for industry.
Dr Ernesto Compatangelo, programme co-ordinator for our Oil and Gas Computing MSc is working on the open source software-based reservoir modelling system that he believes could be more efficient than systems that are more commonly used by industry.
Reservoir modelling requires geological expertise, complex mathematics and software to develop the data required by exploration companies to understand how oil is stored in rock formations.
"If you believe there is oil offshore the cost of exploration is many hundreds of millions of pounds and may take several years of exploration before you can say it's worth producing oil.
"It was worth drilling when production costs were minimal compared to the money oil could be sold at. Now with oil at around $30-$40 per barrel it makes more sense to find the most efficient way," said Dr Compatangelo.
"The only way forward is to make as much use as possible of all the information and data and seismic analysis we have. This is not only done when looking for oil but also when trying to understand whether and existing reservoir is still exploitable or not."
"This is where computer science comes into the equation. It is much cheaper and faster to use data to make predictions of whether there is oil there before you send people out there to start drilling."
"What we are trying to achieve here at the University is allow the students to study this data, using open source software that is available to all."
Dr Compatangelo: "The technologies you need to fulfil this can be open technology. Open source software is adequate for the purpose. You don't need to pay millions and millions per year for licences from companies. We believe you really don't need huge mainframes that cost thousands of pounds a minute to run.
The team at the University began their research into developing open source in January this year and Dr Compatangelo admits it is still early days.
"This is a long-term objective. We are making progress and we believe the whole thing is doable."
"We believe we can use open source technologies rather than expensive, proprietary, paid-for technologies to deliver the sort of things, modelling, analysis and production software, they need in the oil and gas industry.
"The question is does it make sense to use open source software that can be made freely available for operators to use? In theory, why not? In practice? Well, you have to think that people who spend a lot of time doing this, they want some reward.
"We want to demonstrate that the analysis the oil industry needs can be done at an affordable cost to the industry. Which is maybe not the actual cost that is charged to the operators at the moment."
"Our mission is to use completely open source technology and devise something that is industry strength quality that doesn't cost enormous amounts."
Dr Compatangelo said many operators pay a percentage of the value of the oilfield.
"It is a mix of the big companies that provide engineering and computing services – Halliburton and Schlumberger, but in a lot of cases they work with a smaller high-tech companies."
"My main objective is to let the students work on topics of high value to the oil and gas industry – complex simulations, 3D modelling, evaluation and analysis – these are things typically only a few people can do. These are the skills you need if you want to sell yourself as a professional."
Recommended for you

Exclusive: Apache plans end to giant Forties oilfield with £200m spending cut