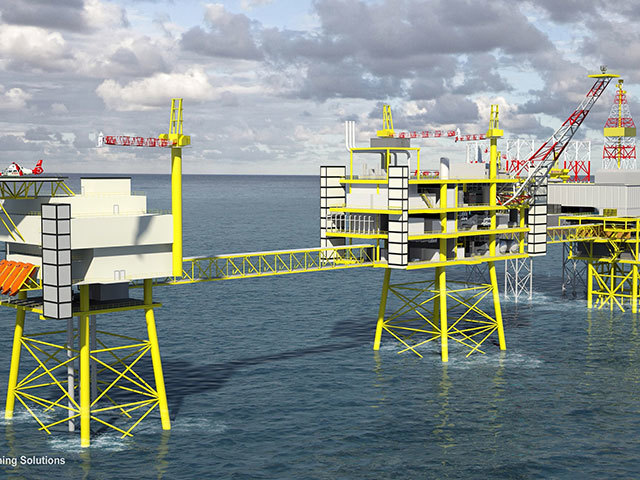 The modern oil and gas engineer is as likely to be found using an tablet computer as a they are a socket and wrench on Maersk's new Culzean platform – which will be one of the most modern in the North Sea.
Culzean will be a truly connected platform, once it comes on stream in 2019. It will be kitted out with fibre optic cables, advanced data management and wireless networks to ensure it is fully online and improve safety while at the same time saving time and money in many aspects of its operations.
If there's an issue with a piece of equipment on the rig, a worker will take their tablet, take a photo and liaise with a team onshore who will be able to pull up an entire history of the part, how old it is and what maintenance has been carried out.
Linked by permanent video, the engineering team can decide what the best course of action should be, liaise with the manufacturer and the team on the platform.
None of the technology is ground breaking and much is already used onshore and offshore already, but with Culzean, Maersk has been able to build in all the elements from day one, meaning it can gain the full benefit from being fully connected.
Maersk aims is to improve efficiency by 20% in terms of people's time and less staff will be required to go offshore, saving time and money.
"The aim on Culzean is to tie everything together," explained Culzean engineering manager Stuart McAuley, .
"One of the biggest challenges offshore today is that you spend a lot of time finding the right data.
"What we plan for Culzean is if something breaks or a valve needs replacing, you will have instant access to the data required whether you are on the worksite, office or the other side of the world."
Critical equipment will be tagged so that when it is scanned, key details such as manufacturing data and certificates and video simulation of maintenance and operations come up immediately. Routine maintenance will be carried out by checking off a list on a tablet.
"With the challenges in energy markets, using technology to improve our efficiency and bring sustainable cost savings is becoming ever more important. We estimate the digital toolkit can save more than USD 10m annually," says Troels Albrechtsen, Vice President for Corporate Technology & Projects.
"The planning that is going into Culzean is building minimised costs into the whole project and new models of working that offer protection against wherever markets go next."
The permanent video link will mean onshore and offshore teams can communicate face-to-face whenever needed, simply by walking into the conference room and asking their counterpart to join them at the other end.
"We have decided to have a small operations team embedded in the Culzean project team from an early stage. By planning carefully in the design phase, when we have the expertise of the design team and vendors on board, the operations team has established the foundation for bigger savings through the operating phase," says Gretchen Watkins, Maersk Oil's chief operating officer.
"This ensures operations excellence is given the best chance of success and our operational delivery can be as competitive as possible throughout the life of the facility."