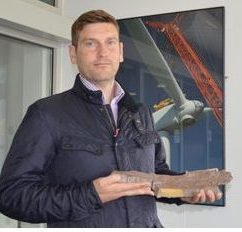 New technology is helping to help pinpoint unexploded mines, bombs and missiles at new offshore energy sites.
Marine business leaders will hear industry expert Lee Gooderham outline how gadgets using 3D "chirps", electromagnetic sensors, and special sonar are spotting Unexploded Ordnance (UXO) in challenging conditions, and are helping to clear offshore wind farm and cabling sites.
Traditional technology used for the past 20 years includes magnetometers, side-scan sensors and multi-beam echo sounders which work well in normal conditions.
But there are times when new technology can help overcome complex challenges and allow the UXO risk to be managed.
Gooderham, founder of specialist company Ordtek, will discuss possible solution at the Innovations in Surveying the Marine Environment symposium being staged in Norwich on Thursday, June 9.
There are some challenging situations detecting and removing UXOs. Germany used aluminium ground mines in World War Two to evade traditional mine detecting.
Poor visibility through silty waters, particularly in bad weather is an issued and large magnetic fields, such as wrecks and seabed debris, can mask pieces of UXO.
Chirp equipment penetrates the sea or riverbed to find buried UXO such as aluminium mines up to 7m deep.
ROV-mounted sonar provides " night vision" style insights into silty water that would normally mean waiting for the weather to improve.
Electromagnetic sensors on submersible survey vessels help to spot metal UXO including aluminium in busy magnetic areas.
Gooderham, said: "For operators it means less waiting on the weather, more productivity, quicker UXO sign-offs and opens up more areas of the seabed for development."
Ordtek is based at Eye near Diss and the OrbisEnergy centre at Lowestoft. The company currently employs seven office staff and six offshore specialists, working on a range of major offshore renewables projects including Galloper off Suffolk, Walney off Cumbria, Hornsea off Yorkshire and Rampion off Sussex.
The event, organised by the East of England Energy Group, will see leaders from the oil and gas, offshore wind and nuclear industries meet specialists in a range of marine surveying to look at how technical and operational innovations are providing more accurate data and improving efficiency.
Recommended for you

'Avalanche' of archaeological finds ahead as developers dig up North Sea past