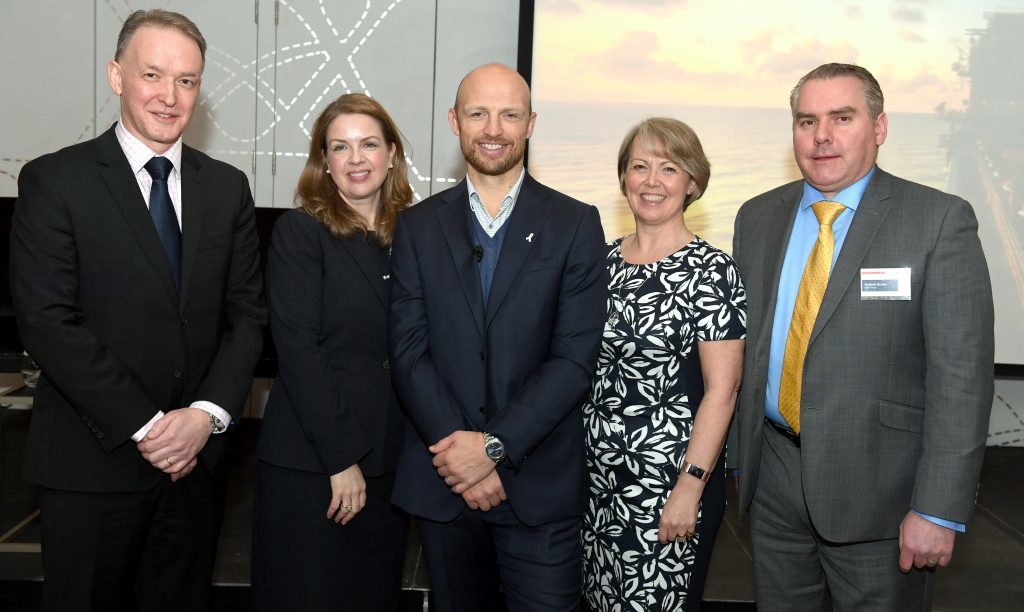 Matt Dawson is perhaps best known as the scrum-half in the 2003 rugby World Cup-winning England team, and for his appearances on the BBC's "A question of sport".
However, Dawson also works as an ambassador for multinational catering and facilities management group Sodexo, which provides services for oil and gas platforms.
His role is focused around staff engagement and quality of life – he currently sits on their regional leadership board.
Matt was in Aberdeen this week for a discussion and panel session held by Sodexo titled "Is the offshore workforce sustainable", with a particular focus on quality of life and issues for the years ahead.
Energy Voice sat down with him to discuss the parallels between the firm's vision for the future and some of the England team's goals leading into the 2003 World Cup.
One issue the panel focused on was succession and ensuring that the next generation of workers (or players) are brought in appropriately.
He said: "The industry is changing and has changed over the last decade or so, and recruitment, attracting talent, is fundamental.
"There has to be a point of difference. Sodexo's point of difference in the market is quality of life and I think that sits firmly with this industry as being a key differentiator in the market.
"It is all well and good being successful but you have to try and maintain that over a period of time.
"Our goal back then was to be the number one team in the world which we achieved in 2001 – we had to maintain that over a two-year period to 2003.
"It would have been unrealistic to say 'well let's win the world cup and the succession is winning the next world cup' because everything is going to be very different.
"The succession was the transition between being a good team in '99 and asking how can we change that very quickly and get to be the number one team in the world and maintain that for a couple of years.
"That involves having the right people, the right systems, the right coaches and processes delivering success week to week and analysing how we can become better individuals – and a team – ad nauseam.
"That way other teams would aspire to be like us rather than us looking up at anyone else."
Technology remains a hot-topic in the industry, particularly with innovations in recent years helping firms make strides in cost-cutting amid a downturn in the oil price.
While advances in technology remain – and will continue to be – "imperative" in Dawson's view, there must also be the right personnel and teamwork to back it up.
"There's no question that the businesses that have that innovation – and a lot of it is going to be behind IT – they are going to be the front runners.
"But within that industry there's got to be a lot of teamwork between the businesses as well, so that's around best practice, knowledge sharing, innovation, people and processes."
Sodexo says their oil and gas clients rate quality of life – including mental health and the workforce feeling valued – at 8.4 out of 10 in importance.
According to their research, 96% of the offshore workforce is male and just 17% rate their overall wellbeing as "very healthy" while offshore.
Dawson believes change, on these fronts, is just around the corner: "Things will evolve over time I'm sure, but I think there are a lot of players in the oil and gas market at the moment who can see an opportunity and want to disrupt it – and disrupt it positively – so that it shakes up a few other people to say 'hold on a minute, yeah things are going to have to change'.
"It's a very proud industry, it's an extremely influential industry so it has to be regulated and done properly, but there is enormous scope and its very interesting to hear the people in the room talking about how that can change."
As far as Sodexo's vision leading up to 2035, which looks to address some of these concerns, Dawson felt there were a lot of parallels between it and the advice he received from coach Clive Woodward.
"You do some homework around these types of things and the 2035 vision really stood out," he said.
"I had a read through it and there were a lot of key phrases and diagrams that made me recall some of the stuff that I had in my rugby career around collaboration, teamwork, leadership, direction.
"It's pretty easy to see that in a sports team, you can see videos of it and give examples of people that you recognise, whereas it seems the industry understands its people are needing to move in that direction.
"However, changes in the cultures and behaviours of people in an industry are sometimes quite difficult when IT is different, the generations of people with millenniums and X and Y and Z and whatever generation there is.
"I found it really fascinating, interesting but I felt sport could potentially direct some people in the room in a direction they haven't necessarily thought about."
The feel of the room, with executives from the likes of BP and Wood, was that Dawson was insightful in his presentation on the parallels between sport and industry.
It was not lost on him that he was talking about English rugby in Aberdeen and had to make some concessions on his thoughts on the upcoming six nations.
"I think you're seeing a Scotland side that are thoroughly enjoying building on what Vern Cotter did with something a little bit different," he said.
"(Gregor Townsend) is not in the Vern Cotter mould, he's going to let players express themselves that want to play an expansive game.
"Just look at the way they've developed.
"Scotland were a side where every year you expected them to do better and better and they would tend to disappoint at some stage, whereas that Autumn Series they looked clinical, they looked menacing.
"Even having chances against the best team in the world to win and then putting Australia away, I think they're going to be a serious contender."
Recommended for you

Investors eager for clean tech risk, despite challenges