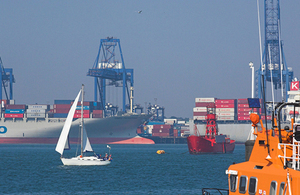 UK government funding to help train new recruits in the maritime sector has been doubled to £30million per year.
Maritime minister Nusrat Ghani said the funding for young people will be offered through the Support for Maritime Training programme.
The investment means the programmes annual candidate intake can be increased from 750 to 1,200.
Multinational shipping companies including BP, Shell, Maersk and Carnival UK have also pledged to create 450 extra training positions on board ships.
Shipping and ports account for at least a quarter of the country's energy supply.
Ms Ghani said: "We are building the maritime workforce of tomorrow and I want to encourage more young people to consider an exciting and rewarding career at sea.
"By doubling the funding for cadet training, we will help make sure that our engineers and captains of the future can access the right opportunities to reach their full potential.
"It will also strengthen the UK maritime sector's position as a world leader and ensure people have the skills they need to help the industry flourish after we leave the EU."