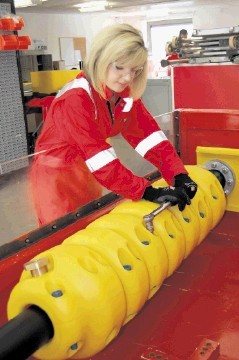 SUBSEA firm Flexlife is hoping to help give students and graduates a foot on the career ladder – and aid its own ongoing growth – by increasing its internship programme.
The Aberdeen-based firm says taking on students before they graduate is a good way for them to get real-world experience and helps their future employability prospects.
Chloe Cheyne, 21, from Aberdeen, recently completed a three-month internship with Flexlife before returning to university for her final year studying for an MEng in Chemical Engineering.
She had a placement as a trainee engineer in the subsea specialist's research and development department.
Due to her chemical background she was given the opportunity to work on the development of FlexGel, a patented substance which can be pumped into a caisson to completely surround a riser with an annulus breach.
She was also involved in the testing of the Flexlife Armadillo, a dynamic riser repair system specifically designed to repair instances of outer sheath damage on flexible pipes.
Chloe said: "I really wanted the opportunity to apply the knowledge I had gained at university in a practical environment.
"I had expected to do a lot of job shadowing and paperwork but never imagined I'd be involved in the work in such a hands-on way.
"The team encouraged me to get really involved and to make suggestions from the start and I felt that I had been able to make a real contribution to the various projects."
Chloe has impressed the Flexlife team so much that chief executive Stuart Mitchell said she had been offered an industrial placement during her masters year and a permanent position with the company on completion of her degree.