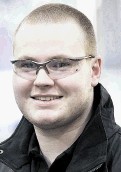 TWO young apprentices have become the first trainees at Wireline Engineering to complete the firm's modern apprenticeship programme.
And now the firm is looking to launch a graduate intake programme to boost its design team.
Andrew Fergus of Ellon and Craig Hall of Balmedie, both 22, started their four-year apprenticeships with the wireline and well intervention technology specialist in 2007, combining practical training at the firm's north-east manufacturing facility with part-time study at Banff and Buchan College.
Bill Petrie, managing director of Wireline Engineering, stressed the need for firms to develop and qualify school-leavers, warning that just recruiting people was no longer a secure strategy.
He said: "We encourage school-leavers who want to pursue a career in the oil and gas industry to learn their trade by going straight on to an apprenticeship programme which offers a good balance of real on-the-job experience, professional supervision and formal education at college.
"We are now planning a graduate intake scheme that will allow us to bolster our engineering design resources.
"The initial plan is to take on two university graduates who are interested in pursuing a career in the design side of engineering."
Wireline Engineering develops well intervention and completion technologies for the oil and gas industry worldwide.
The company was founded in 1998, and is based at Blackburn, Aberdeen.
Recommended for you

'Capable trainees are most important asset'