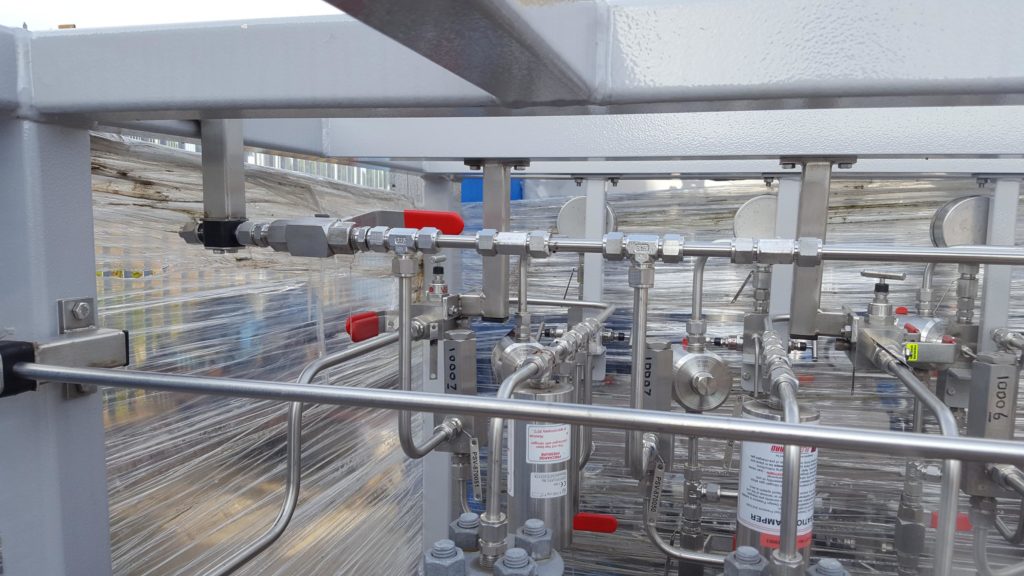 A new technology start-up company is hoping to take X-ray technology offshore to solve one of the industry's major headaches.
David Phin, CEO at Aberdeen-based Paragon Inspection, says that, in the offshore oil and gas industry, 20% of reported hydrocarbon leaks annually are caused by problems with the connections on small bore tubing – and it has done for some 20 years.
In the offshore oil and gas industry, small bore tubing carries fluids and gases, including hydrocarbons, as part of the instrumentation and control system. Recent survey data from 45 assets in the UK Continental Shelf (UKCS) showed that, during 2017, more than 14 million barrels of oil equivalent of production losses occurred, with small bore tubing being one of the top causes, that's around £18 million per asset.
The problem is that there's a lot of it – up to 150,000 small bore tubing connectors on a single offshore platform, in fact, says Phin. That adds up to about 45 million on the entire UKCS. They're also easy to assemble incorrectly; there are 13 different ways to wrongly connect it and only one way to do it right, he says.
"At the moment, there's also no way to determine whether joints have been correctly assembled," says Phin. "If you commission and then take equipment offshore, you have bigger problems if connections are not verified properly. It costs 19 times as much to put people offshore to verify there."
There's also no way to check if joints are suffering any integrity issues during service life without disassembling them, which involves shutting the line, isolating, purging the system, disassembly, visual inspection, re-assembly, pressure tests etc. As the process involves breaking into a hydrocarbon joint, production might be effected, and there are also various safety implications and procedures to be followed. "This process takes 50 steps over two shifts, involving six people with sign off, permits, etc.," says Phin. It can be a major headache if a problem is found usually leading to disassembly of all connections in the line.
However, if X-ray technology could be used, the internal integrity of the connectors could be checked without pulling apart the tubing. But, "in conventional radiography, two people are involved, setting up barriers, there has to be a safety area, they take the source, shoot, process the film and interpret the images," says Phin. "It can take hours and has never been feasible offshore with the volume of connectors."
Paragon has found a way around the problem. It is using X-ray technology used in other industries to classify metals, such as in recycling, but it's using it to see problems inside the connectors, more like in traditional radiography, instead of classifying the metal. Furthermore, the technology and interpretation software is integrated into a hand-held device that encloses the energy emitted so that it can be used safely offshore, without any impact on production. Paragon calls it the OLEG system – (On-site Low Energy Gauging). Low energy X-ray radiation passes through the connector and a detector on the other side detects the transmitted X-rays.
"Our patented device can be used on a live system," says Phin. "The device can be used by one person in seconds with no safety barriers required, reducing risks of leaks and downtime. It also means companies will have the information they need to not just assess the current integrity, but also predict future problems before then happen," says Phin.
Phin has been working in the industry for 20 years, looking at inspection problems in various industries, including oil and gas, as well as aerospace, power generation and turbines, and coming up with solutions.
Last year, the firm was given a major boost by being one of 10 companies involved in a technology accelerator run by The Oil & Gas Technology Centre, called TechX Pioneers. The programme has given the firm access to funding, but also mentors and operators. Furthermore, Phin is one of twenty Unlocking Ambition Enterprise Fellows who are currently partaking in a years' worth of intensive business training. Backed by Scotland's First Minister, Unlocking Ambition is a £4m challenge fund created by the Scottish Government as part of the Programme for Government 'A Nation with Ambition'.
Before Paragon got involved in the TechX program, the company had a minimum viable product. "That's accelerated over the last 16 weeks, to the stage where we have the first stage prototype equipment and we're going out and getting feedback," says Phin. "We have had access to industry, guidance, expertise and help, all because of the programme.
"The next step is to find an industry partner and start to do some field trials to further refine the equipment, probability detection, and further prove reliability," he adds. "We'll look at onshore first, then offshore and then other industries. There are 120 million small bore connectors produced annually and used globally in all industries. They're used in every industry, nuclear, power generation, transport, even hydrogen fuelled vehicles."
Applications for this year's TechX Pioneer programme are open until January 31, 2019.
Following applications closing, a select group will take part in a finalist bootcamp in February. The successful applicants who make it through the bootcamp will then be offered a place on the Pioneer programme which will begin in May and run for 16 weeks.
For more information on the programme and support with applying go to https://www.theogtc.com/techx/pioneer-programme/apply-here/