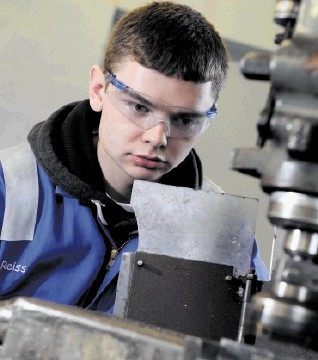 A young apprentice who was determined to work in the engineering industry has completed the first week of his fledgling career with a Peterhead firm.
Reiss Fraser started at Maritime Developments during Skills Development Scotland's (SDS) first Scottish Apprenticeship Week.
The 18-year-old left school this summer and has joined the company, which designs and produces engineering equipment for the oil and gas industry, as a mechanical engineering apprentice.
Mr Fraser decided to pursue a career in the sector because he was keen to work with his hands and had been helping his father with jobs around the house and at his work.
The young apprentice spent the first week of his apprenticeship at the Industrial Training Centre Aberdeen (Itca) to learn some of the skills he will need in his new job.
"It has been really enjoyable and interesting and I feel I have learned a lot in my first week," he said.
Maritime Developments' operations co-ordinator Greig May said the firm currently employs two other apprentices as well as Mr Fraser.
He said: "We feel very strongly that apprenticeships are vital to companies in this sector, because there is no doubt that there is going to be a skills shortage and we have to act now to deal with it.
"It is also important to give people opportunities and help them progress."
Itca managing director June Jones said: "Scottish Apprenticeship Week will raise the profile of workplace learning and earning and can only help to address the skills gaps that are appearing within industry.
"The apprentices of today are the employers of tomorrow and should be nurtured, supported and valued and vocational learning should have parity of esteem with academic learning."
Scottish Apprenticeship Week is part of SDS' drive for Scottish employers to recruit 25,000 new trainees during 2011, and the Press and Journal has joined forces with the organisation to encourage firms to take apprentices on board.
For more information on apprenticeships, call the SDS employer helpline number on 0800 783 6000 or visit www.sds.co.uk