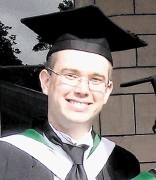 THE first tranche of graduates from the University of Aberdeen's MSc Oil and Gas Structural Engineering completed the course this year.
Launched three years ago and now going into its fourth year, the MSc is an industry academia partnership between the university, Atkins and Wood Group PSN.
Dr Alan Marson, principal engineer (oil and gas) at Atkins in Aberdeen, was among this year's batch of 10 graduates who began the course when it was set up in 2008.
He said: "Despite being a senior engineer for Atkins at the time, my educational background is in physics so this was a fantastic opportunity to broaden my knowledge. Only around a third of the courses on the curriculum were ones I had worked within previously so I jumped at the chance."
Mr Marson took on the three-year part-time distance learning qualification alongside his full-time employment with Atkins. Others on the course were from Australia, Denmark, the US and United Arab Emirates.
Dr Paul Davidson, programme co-ordinator, said: "As the top people approach retirement, there is a growing skills gap in the oil and gas sector which is a problem recognised globally.
"The course was designed with this in mind and I'm happy to say that it is continuing to go from strength to strength."
The MSc Oil and Gas Structural Engineering is fully accredited by the Institution of Civil Engineers (ICE), the Institution of Structural Engineers (IstructE), the Institute of Highway Engineers (IHE) and the Chartered Institution of Highways and Transportation (CIHT).