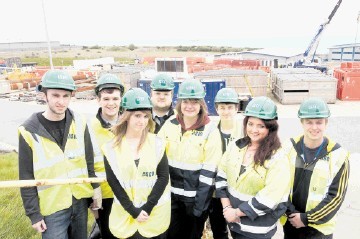 EIGHT new apprentices are set for a footing in the oil and gas industry after joining industry logistics business Asco.
The cohort will be working at a number of the firm's Aberdeen and Peterhead sites and will work towards workplace-based modern apprenticeships in either warehousing, logistics and distribution or business administration. After two years they should be fully qualified up to SVQ level 3 in their chosen discipline.
They are: Iain Edwards, Alex McGregor, Gemma Lawson, Scott Partington, Caryn Bennett, Brandon McBain, Naomi Ballantyne and Adam Watt.
ASCO's Modern Apprenticeship scheme provides people with the opportunity to gain work experience in warehousing and logistics operations, transport or business administration within the oil and gas industry, while working towards formal qualifications.
Since 2006, the group's UK business has employed 21 modern apprentices.