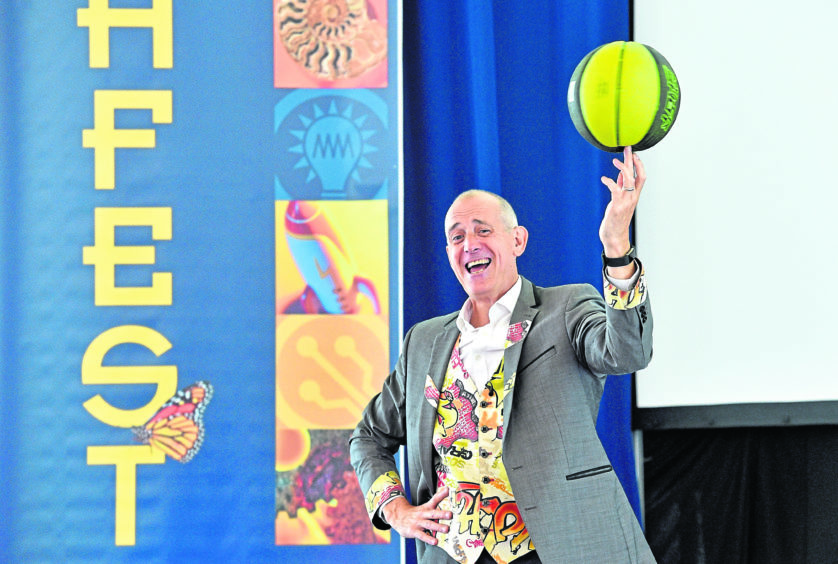 The science behind some favourite circus tricks will be revealed this weekend as TechFest gets under way.
The annual festival, highlighting how science, technology, engineering and maths (Stem) are used in everyday life, kicks off with a weekend filled with activities – including the Entertaining Science Circus Show.
Kids of all ages can learn about the chemistry of fire-eating, how to break the sound barrier with a circus whip and the physics of juggling while unicycling.
The activity weekend takes place at the Robert Gordon University's Garthdee campus.
Supported by joint principal funders BP and Shell and sponsored by Marathon Oil, the programme features more than 30 interactive workshops, demonstrations and shows, costing just £1 for adults and 1p for children as part of the In For a Penny, In For a Pound initiative.
Sarah Chew, the festival's managing director, said: "The activity weekend is a real highlight in our calendar because it kicks off our festival with a fun-packed weekend that gives people of all ages the chance to immerse themselves in Stem with workshops, shows and presentations from experts working in a range of fields.
"We can't wait to join thousands of people from across the north-east at this brilliant event."
Between Monday and Friday, ToddleFest will provide interactive activities to promote sensory development in pre-school children as young guests have the chance to make rain clouds, playdough and lava lamps.
And TechFest 2019's public programme, which runs from today until September 28, promises to celebrate "all things made in Aberdeen", with homegrown talent comprising more than half of the schedule.
Highlights include joining RSPB Scotland to explore the marine wildlife around Aberdeen and learning how scientists and engineers created the city.
There will also be hands-on maths puzzles and an interactive geology workshop.
Speakers include zoologist and author Dr Michael Leach, who will share his experiences of living with mountain gorillas in How To Speak Gorilla on September 14.
Also, biologist and TV presenter Simon Watt will explore some of the strangest sea creatures in the Ugly Animal Show: Weird Life Underwater on September 27.
The TechFest activity weekend runs from 9.30am-4pm at the Sir Ian Wood Building, with entrance tickets available on the door.
For more about TechFest 2019, visit www.techfest.org.uk or follow TechFest on Facebook and Twitter.