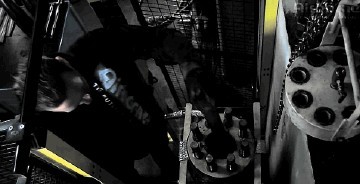 A JOINT industry project (JIP) aims to prove the potential of thermoplastic composite riser technology to cost effectively extend the life of production risers.
The project is being undertaken by Airborne Composite Tubulars and MCS Kenny, with OTM Consulting as project manager.
Support and guidance is being supplied by eight operating and service companies, and the project was launched through Aberdeen-based ITF (Industry Technology Facilitator).
The development of reservoirs in increasingly hostile environments is placing more demands on production riser design. For example, water depth is a key factor in riser design, with deeper water presenting greater technical challenges.
Ageing reservoirs can also present challenges. As many reservoirs become increasingly sour with age, corrosion resistance becomes increasingly important.
The team behind this JIP believe that a thermoplastic composite riser, as an alternative to currently existing solutions, could achieve a breakthrough in performance improvement.
They say that in comparison to steel, a thermoplastic composite riser offers benefits such as reduced weight, lower top tensions and lack of corrosion and spoolability. They also claim that, as an alternative to flexible pipe, it offers lower costs, improved fatigue resistance, a smooth bore, absence of an annulus and simplicity.
Martin van Onna, Airborne's managing director, said: "As oil and gas production moves into deeper waters, some new developments are now pushing the limits of existing top tensioned, steel catenary and flexible riser technologies, and this is resulting in dramatically increasing costs.
"For example, steel catenary risers are limited in their operational envelope in terms of maximum water depth, due to the strength to weight ratio. In addition, they also have performance limitations in shallow and medium water depth with respect to catenary configuration with larger diameters, due to their high stiffness and large minimum bending radius.
"In this project we are proposing a thermoplastic composite riser as a cost-effective alternative to current solutions. Our programme of work includes the thermoplastic composite riser design and global analyses of several sponsor-determined scenarios, as well as the manufacture and testing of large scale pipe samples."
The thermoplastic composite riser technology is based on a process of reinforcing a thermoplastic composite liner with melt-fused glass fibre tapes. The glass fibre-tapes are impregnated with the same thermoplastic compound as the liner and outer coating of the pipe, resulting in a fully-bonded solid tubular wall.
The developers say that the glass fibres provide strength and stiffness to the pipe, while the thermoplastic matrix enables spoolability without fatigue or cracking.
Mr van Onna added: "The initial results of the JIP support the potential benefits of this technology. The thermoplastic composite riser is much lighter than steel, with benefits including a 60% reduction in top tension, less buoyancy requirements and a simplification of subsea architecture.
"One solid bonded wall results in a fail-safe pipe system with large collapse resistance, a smooth bore and no friction between reinforcement layers, which helps avoid the damage mechanisms typical of conventional flexible pipe.
"The move to deeper water can also be associated with more high pressure and high temperature (HP/HT) applications.
"Higher pressures require heavier pipes, compounding the issue of riser weight in deep water, so we believe that the thermoplastic composite riser could offer particular benefits with respect to HP/HT performance."
Keith Mackine, ITF's technology manager, said the high level of interest there had been in funding the project was a good indication of the impact it may have on the industry.
Phase one of the project is now complete, and phase two – combined load testing – is due to be completed during this year's fourth quarter.