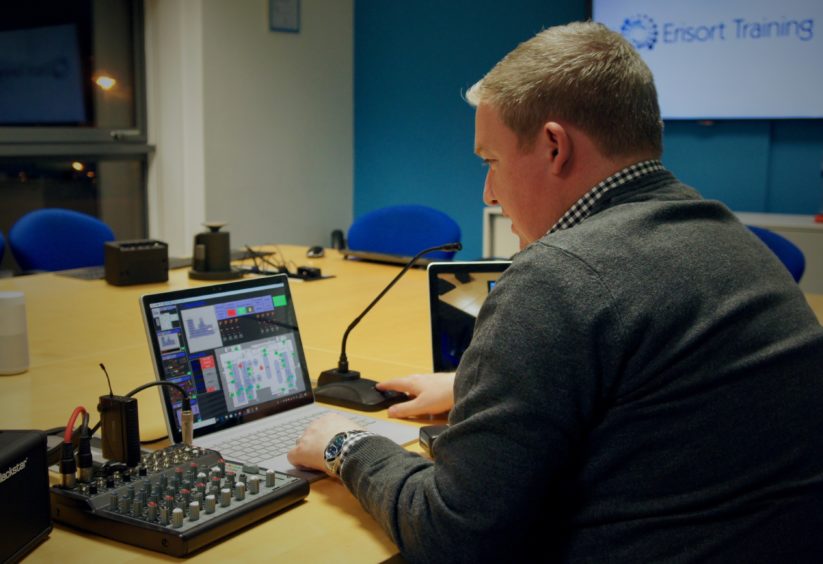 Though Covid-19 lockdown restrictions across Scotland are now beginning to ease, the viability and availability of international travel remains up in the air.
For oil and gas companies looking to ensure their staff are up to speed with the latest safety protocols, recruiting a specialist for in-house training is now fraught with difficulties.
As such, the pandemic has forced Isle of Lewis-based firm Erisort Risk Management to accelerate the delivery of its new product, which creates an "online solution" to the issue of remote training.
The E-Sim incorporates all the elements typically found within a normal major emergency management training suite, with a range of simulations covering both onshore and offshore scenarios.
Managing director Dougie MacLeod, who has more than 20 years' experience working in emergency response, crisis management and business continuity across the globe, set up Erisort in 2017.
He said: "One of the challenges that's been highlighted by Covid-19 is that, historically and traditionally, the specialist skills that my company is involved in always requires a lot of people to travel to a central hub, be that in Aberdeen, Dubai or Singapore.
"We've been working hard to replicate what we traditionally do but in an online world and have developed the E-Sim. It incorporates communication software and creates a cloud-based solution that allows various people from all over the world to dive into our virtual simulator.
"There's not many people in the world who are delivering this type of training in an online environment and we think the solution that we've come up with can provide people with a good level of teaching, assessment and simulation."
As the sole team member and financial backer of Erisort, MacLeod has been the driving force behind the development and launch of E-Sim.
However, it hasn't been plain sailing and one of the biggest obstacles arose when it came to finding a way for attendees to demonstrate crisis response skills virtually.
Typically, MacLeod would be able to assess how people cope in an emergency by observing them in person.
He said: "It was a big challenge to overcome. By using video conferencing technology, as well as communications technology, we can now fully interact and observe what the candidates and the learners are doing.
"We're not saying this is the right solution for everybody. There is still a market for the traditional in-house training, and I'm a big fan of that as well, but it's about giving companies, organisations and individual's flexibility.
MacLeod has been in a unique position in the last few months in that he was, to some extent, able to prepare for coronavirus hitting the western world.
Before lockdown, he was travelling across the globe delivering in-house training courses and began to see Covid-19 take hold in other countries before it had even hit the news in the UK.
He said: "I first became aware of Covid in November last year. I was working out in the far east and was starting to see the impact of the virus before it came to Europe.
"There were a lot of health checks and screenings in offices and in airports so before it was even on the radar I was able to see the potential impact."
Moreover, while the pandemic is currently creating turmoil for businesses across the world, MacLeod is hopeful that E-Sim will allow him to begin expanding Erisort.
He said: "I didn't want Covid-19 to define the company in a negative way, so creating the online solution was the best way to overcome the challenges we all face."
"There's an ambition to try and grow the business and to diversify as well. At the moment we tend to rely on contractors but we're hopefully going be taking on staff in the near future."
Recommended for you

Pict partners with Maersk Training to take Get Up Safe stateside