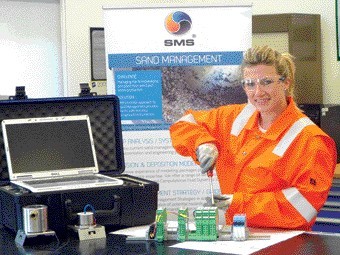 Aberdeen sand management firm SMS has created a fast-track graduate scheme and plans to recruit four graduates into it this year.
The firm, which currently has 22 staff, says it is expecting a period of growth in the North Sea and internationally this year and wants to bring in graduates as a part of its expansion.
Kelly Forrest, pictured, former Aberdeen University graduate with an MSc in Oil and Gas Engineering and a BEng in Mechanical Engineering, is the first fast-track graduate on the scheme.
She said: "Having recently graduated I was looking for a position in the oil and gas sector that would offer me an opportunity to develop my skills on a structured training programme.
"The SMS graduate position has extended my knowledge rapidly; I recently attended the 5th European Sand Management conference and helped organise the pre-conference workshop run by SMS.
"The programme has encouraged early responsibility within projects and provided early goals to succeed throughout the company."
In 2012, SMS says it expects to be providing services in at least 12 different countries, most of which will be supported by the Aberdeen headquarters.