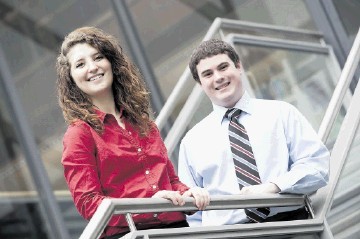 Two students have hopped across the pond to gain international experience in the energy industry.
University of Tulsa students Joey Moppert and Cheyann Weinacht joined the Industry Technology Facilitator (ITF) as part of a student exchange programme through the Robert Gordon University.
Combining study with hands-on experience in Europe's Energy Capital helped broaden their knowledge of the industry, but also opened the door to global career opportunities.
Joey, 21, from Missouri, and Cheyann, 19, from Iowa, who both study Energy Management in the US, got involved in a variety of projects from tracking completed joint industry projects (JIPs) to researching future subsea technology themes.
They have also been involved in the benchmarking and marketing of ITF and creating a new client profiling database.
Cheyann said: "The placement has given me a different outlook on the industry and shown me that I can branch out to so many other avenues.
"While many people from my course have gone on to focus on the contracts side of things in upstream production – what we call a "land man" – my time at ITF has shown that the technology side of the sector also provides a wealth of opportunities for my skills around the world."
Neil Poxon, managing director of ITF, said: "This is the third year we have supported the student exchange programme and it is very valuable for both sides.
"We are focused on working with industry to deliver groundbreaking technology solutions and need to involve the best and brightest new minds to make this happen."
Joey said: "It has been fascinating to see how the UK industry operates and I now understand the importance of collaboration in technology development. We have had a great experience at ITF and have been made to feel part of the team."
Cheyann added: "While I was nervous about coming to the UK and working in this unknown environment, it has opened the door to future possibilities and I would urge other students to grab the chance to study and work abroad. It is never something you will regret doing, but it is something you will regret not doing."
Recommended for you

Riddoch stands Sentinel on environmental protection