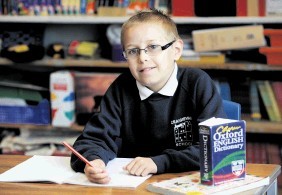 The summer holidays are nearly here and to make sure the school term ends on a high note we have three iPad2s to give away.
All you have to do is help us with our A-Z of Energy – an alphabet covering everything about energy, from atomic power to biofuel.
We have already got to the letter E, with an entry from Sandy Brander of Craigievar Primary School in Aberdeenshire winning this month's iPad2 prize.
Now you have the chance to win an iPad2 for your class or school by submitting an entry for any of the next three letters – F, G and H, standing for Fossil Fuels, Geo-thermal Energy and Hydrogen.
All it requires is a 250-word description of the word you have picked on what the type of energy is, along with the author's name, age and school, by Friday, June 22.
The winners will be given an iPad2 for their school or class to use, courtesy of Young Energy supporter Shell, and their entries published in the Press & Journal's Energy supplement over the summer holidays.
Have you got what it takes? Simply e-mail your entries to elaine.maslin@ajl.co.uk and good luck.
A special commendation for this month's entries goes to the students at Portlethen Academy whose inventive entries included electricity raps – we enjoyed them very much. Do try again.
For more information on energy and how it effects our lives see Shell's Inside Energy app for the iPad – packed with information through videos, animations and photo galleries.
The winning entry by Sandy Brander, P6, Craigievar Primary School
Electricity is used to power stuff. If you've ever sat looking out of your window watching a thunderstorm, with huge lightning bolts hurtling down from the sky, you might have an idea of the power of electricity. A bolt of lightning is a sudden gigantic surge of electricity between the sky and the ground beneath. The energy in one lightning bolt is enough to light approximately 100 really powerful lamps for a whole day or to make over a couple of hundred thousand slices of toast. Yum, Yum!! Electricity is a type of energy that can build up in one place or flow from one place to another. When electricity gathers in one place it is known as static electricity (the word static means something that does not move), electricity that moves from one place to another is called current electricity. Electricity is used to power lots of stuff, lights, heating, fridges, your laptop, kettle, toaster and the list just keeps going on and on and on. Static electricity often happens when you rub things together. For example, if you rub a balloon against your jumper 20 or 30 times, you will find that the balloon sticks to you. This happens because rubbing the balloon gives it an electric charge (a small amount of electricity). The charge makes it stick to your jumper like a magnet because your jumper gains an opposite electric charge. So your jumper and the balloon attract one another like the opposite ends of two magnets.