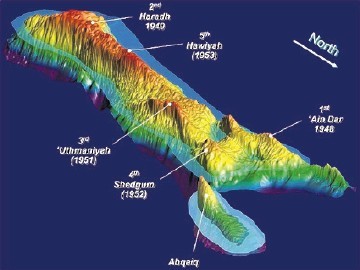 Saudi Aramco has launched a strategic research programme designed to push the frontier of oil recovery from carbonate reservoirs, notably the gigantic but now ageing Ghawar field onshore Saudi Arabia.
Dubbed "SmartWater Flood", the purpose is to explore the potential of increasing oil recovery from carbonate reservoirs by tuning properties of injection water, for example, salinity, ionic composition, interfacial tension, and others.
According to Mohammad Qahtani, a VP at the company's exploration and petroleum engineering centre (EXPEC Advanced Research Center), field tests have recently been completed successfully demonstrating the potential of increasing oil recovery from Saudi Arabian carbonate reservoirs using conventional seawater injection by tuning the ionic composition of field injection water.
"Considering these field trials are the first-ever applications in carbonate reservoirs, they further provided another confirmation that SmartWater Flood has strong potential to be a new recovery method targeting Saudi Aramco carbonate reservoirs," said Qahtani, announcing the programme.
The company makes heavy use of water injection in the Ghawar field periphery to maintain pressure necessary to drive hydrocarbon production.
Moreover, Saudi Aramco says its existing water injection infrastructure is highly attractive as it is an efficient and economical approach to increasing recovery.
The company says that, over the past several years, in-house research efforts have revealed that injection of chemistry-optimised versions of injection seawater provided substantial oil recovery beyond conventional seawater flooding for carbonate rock samples.
According to Qahtani, these results were confirmed and validated through different laboratory studies including surface chemistry, wettability and fluid-rock interaction.
"This milestone could have significant impact on how we will assess and conduct future waterflooding programs within the company," said Samer Al Ashgar, EXPEC ARC manager in an update on the project.
"This programme is one of EXPEC ARC's research thrusts towards increasing recovery from our oil fields," said Al Ashgar, adding that moving this technology from lab-scale to field-scale, a roadmap for SmartWater Flood field applications is under way targeting a full demonstration project.
The first phase of the roadmap is to conduct several single well tests to prove the concept of SmartWater Flood at field environment. The series of field trials will continue, leading to a multi-well demonstration pilot project to fully assess and optimise this new recovery mechanism.
This Saudi Aramco project will likely be closely watched by international and national operating companies alike as carbonate reservoirs are commonplace worldwide and frequently pose major challenges in terms of the level of hydrocarbons recovery that is possible.