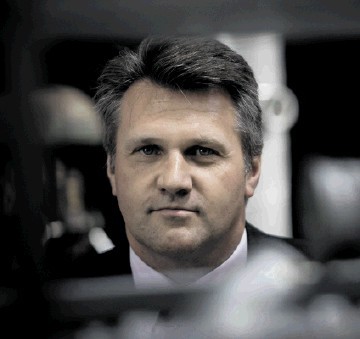 This month, Maersk Training will formally open its new purpose-designed and built fire ground facility at Portlethen.
This £500,000 investment marks an important stage in the development of the group's training facility in the Scottish north-east and will enable a more rounded offering to the North Sea marketplace.
It is predicted to more or less double turnover for this particular Maersk business unit and creates a further handful or so of new staff and contract jobs.
"The main reason we invested was to complete the circle in terms of our ability to offer emergency response training in its entirety," managing director Duncan Bonner told Energy.
"That means survival training, fire fighting, emergency response and major emergency management (MEM) training.
"Obviously we had the accreditation for survival training when we opened, since when we've been adding to our capabilities progressively. We introduced MEM training last year and this year's investment has focused on closing the loop.
"In any case, our customers are demanding that we be able to offer them as much of their training requirements as possible and one of the things we discovered early on, if you can't offer the whole then they may go to another provider."
Bonner said that adding fire training was also important from a wider Maersk point of view, given Maersk Oil's growing presence in Aberdeen and where significant changes are under way.
"This means greater demand from there," he said. "But we don't get that work handed to us on a plate; we have to go out and win it"
Maersk Oil currently accounts for 15% maximum of Maersk Training's business at Portlethen.
As for the new fire ground, the proposal to build one was tabled to the company's board just after Offshore Europe last year and was approved soon after.
The facility has literally just been completed and will be officially opened this month and brings total investment in the Portlethen facilities to close to £1.5million over the past 18 months.
Key elements of fire ground include the ability to train up fire teams, carry out leadership training, and deliver helicopter and offshore support vessels fire fighting courses.
The target is to put 50-100 delegates per month through the fire courses. Expectation is that take-up will be gradual and that this sort of level will be achieved in 2013.
Bonner: "This is expected to contribute 50% growth of the company's existing business and should lead to a doubling of overall revenues for 2013.
"Regarding jobs, we've recruited one full-timer for now, plus we will be using contractors. A minimum of three to four instructors will be required per course.
"We've also increased back-office support by another three or four positions, including taking on administration and business development people."
The total number of staff at Maersk Training currently stands at 15 full-timers, plus a further five to six contractors working near full-time and some on an ad-hoc basis.
Recommended for you

Maersk Training seeks new UK instructors following 'huge surge' in demand