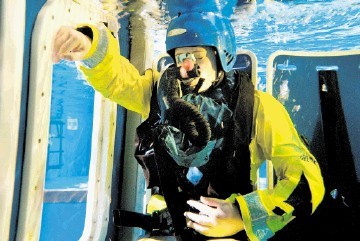 Energy industry training centre Survivex wants to recruit 20 people after a successful first year in business.
The Aberdeen-based business said its first 12 months had beaten expectations and it has set itself targets for even greater growth in the coming year.
The Dyce centre now employs 60 people, 10 more than bosses expected by this time, but finance director Andrew Green said Survivex needed another 20 people if it was going to nearly double turnover in its second year.
Survivex has taken in £3.8million since opening its doors for the first time a year ago, but has now set its sights on £7.2million in the current year.
Mr Green, the son of the company's founder George Green, described the first 12 months as "a whirlwind" for the business. He said: "It has been non-stop since we opened, but we have traded ahead of budget and have now revised our plans for next year. Client acquisition has been very strong, a number of oil service companies are now on board and we hope to attract more."
Mr Green said 3,000 people are trained at Survivex every month. It is claimed the 53,000ft centre delivers the highest-quality, most realistic survival training in Europe.
"At the heart of our business is our commitment to realistic training," Mr Green said.
"Research has proven that realistic training can help save lives and we are proud of our cutting-edge facilities – unique to the local area – such as the environmental effects pool, which emulate the volatile North Sea."
Mr Green also said Survivex was inviting north-east school pupils and college students to tour its centre to find out more about the oil and gas industry and the training required to work offshore.
He said: "We know there is a skills gap in the sector and this is something we can do to help fill it.
"As part of the tours we will also let the children and students take part in some practical training, which we hope will inspire them to join the energy industry."
Recommended for you

Energy price cap to be updated quarterly ahead of 'challenging winter'