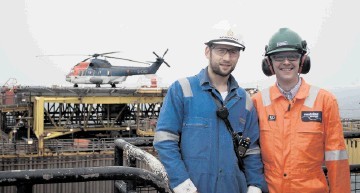 With new projects coming on stream and platforms like Kittiwake producing oil and gas for years longer than expected, the offshore industry needs new skilled workers now more than ever.
Companies from operators down through the supply chain want to recruit hundreds of people in the coming years to cope with the anticipated rise in demand.
Despite the clamour for young people to join the 440,000-strong oil and gas workforce in the UK, many are still being guided away from the sector.
Mathew Donald, who at 27 is already an operations supervisor on Kittiwake for Petrofac, has worked offshore for nine years.
Mr Donald, who is originally from Inverurie and now lives at Insch, said he joined the industry as a 16-year-old apprentice despite being advised against it.
He added: "I was told then by my guidance teacher that the industry was on the way out and it was the wrong way for me to go. I realised quite quickly that just wasn't true. There are still a lot of opportunities there – there are a lot of people working offshore who are winding down towards retirement, so it opens it up for the younger generation."
While in the past many oil and gas firms targeted the mining industry or the Merchant Navy for new recruits, they are increasingly having to look elsewhere for people interested in going offshore.
Companies like Petrofac are now casting the net wider and approaching marine cadets or former forces people to address the problem of skills shortages offshore.
The skills gap is also partly being met by people like John Beckley, 36, who started working on Kittiwake six years ago. Mr Beckley, who hails from Middlesbrough and is a maintenance supervisor on the North Sea platform, said: "I worked onshore in chemical plants and saw a lot of the lads moving on to go offshore.
"I had the right experience as well and decided to follow them, and I have never looked back."
Recommended for you

North Sea workers tell SNP they lack support for renewables switch