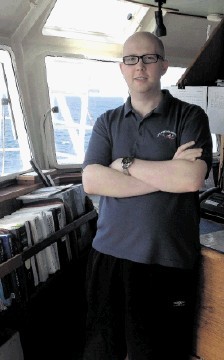 Matthew Parkhouse was always going to have a life at sea. But instead of following in his father's footsteps in fishing, he has chosen a career in the offshore oil and gas industry.
The 29 year old, who is a 2nd mate for Aberdeen-based emergency response and recovery vessel firm Vroon Offshore Services, tells us about his career.
Why did you choose your career?
I left school in 1999 at the age of 16 and went straight to work on my father's fishing vessels. After 8 years in the fishing industry I decided that enough was enough and that I really didn't want to be doing that for the rest of my days so at that point I knew it was time for a change. It was then that I took myself off to Glasgow College of Nautical Studies where I gained my OOW certificate of competency which allowed me to sail as 2nd mate with Vroon Offshore onboard their vessels. Being at sea from a very young age the natural progression was the offshore industry in some form or another.
Who or what has influenced you most in your career to date?
Definitely my Dad, since I could walk and talk I've been on or around boats and the sea with him. Also where I grew up, the Kintyre peninsula is strongly connected to and involved with the sea in many ways.
Where do you see your career going?
To the top really, as soon as I can I hope to progress and upgrade my ticket to Chief Mate and then in due course up to Master after that. It will take some time but the benefits are there to be had if you stick it out.
What advice would you give to others looking to get into the oil and gas industry?
Apply yourself to the best of your abilities and show a lot of willingness. Get out there and actually try and speak to the oil and gas companies, write letters to them rather than e-mails asking about any positions they may have or if they would be interested in sponsoring a cadetship or apprenticeship with yourself. The worst they can say is no!
If you weren't dong the job you are in now, what else would you be doing?
Most likely I would be back working on the fishing trawlers in my local area or involved with fish farming but I do know I would definitely still be at sea in some way or another.
Recommended for you

9/11 survivor tells Aberdeen conference about her move to sustainability